Schoodic Experience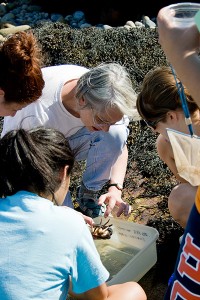 The Schoodic experience is part of the School of Biology and Ecology's biological sciences orientation course (NFA 117). This course introduces students to their major and informs them about important academic and other resources that are available on campus.  All first-year students in the biological sciences (BIO, BOT, ZOL, and CLS majors) take this course, with most students opting to attend the multi-day event at the Schoodic Education and Research Center, part of Acadia National Park, located on the coast of Maine.
While at Schoodic, students meet and become good friends with other biological science students, attend faculty-led outdoor workshops, visit research facilities, and explore what the coast has to offer in, and around, Acadia National Park. The relationships, and sense of community, that stem from the science-related activities carry-on as positive energy throughout the student's time at UMaine. This allows students to feel at home in the School of Biology and Ecology as soon as their first week begins, and provides a lasting network of support as they pursue their undergraduate degree.
---
Field Trips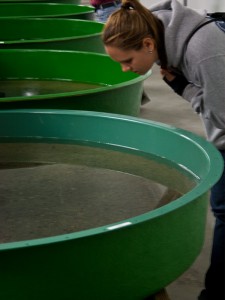 In the evenings, Schoodic is the perfect place to relax and bond with classmates. But during the day, students venture out to visit some of the research facilities in the area with ties to the University of Maine, places at which some of the students may work and conduct research in the coming years.
These facilities have included the National Cold Water Marine Aquaculture Center, the University of Maine Center for Cooperative Aquaculture Research, The Jackson Laboratory, and the Mount Desert Island Biological Laboratory.
See Schoodic Trip Info page for more detail.
Excursions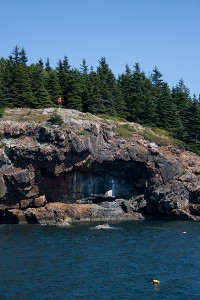 The Schoodic Experience takes students on half-day adventures that allow them to experience some of the best that Maine has to offer, letting them participate in adventurous activities.  Some of these activities vary from year to year, like a chance to hike the trails in Acadia National Park.
Specific trips are scheduled prior to leaving for Schoodic. See the Schoodic Trip Info page for information about the different options and the respective deadlines. (**Note that all costs associated with these activities are included in the NFA 117 course fee.)
Outdoor Workshops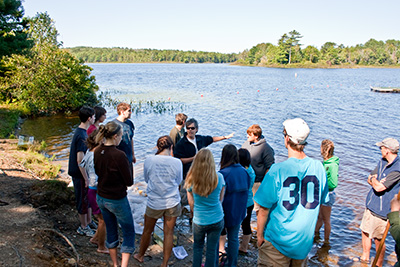 One of the most valuable experiences at Schoodic is the chance to spend time in small groups with some of the School's faculty as they lead an outdoor workshop. Professors that serve as advisors to students in the current incoming class each choose a topic that is near and dear to them and share this excitement through a hands-on workshop.
Whether it is catching and surveying a wide array of insects around the research center, using microscopes to inspect marine organisms along the craggy rocks of Schoodic point, meandering along the forest paths on a fungal foray, or seining for small fish in a nearby lake, there are many engaging workshops for students to choose from. For more information, go to the Schoodic Trip Info page.  Students at other large universities usually do not have this opportunity until they get to know their professors in one of the smaller, upper-level courses as a junior or senior. At Schoodic, incoming students become familiar with many of the scientists that they will be learning from before the even walk into their first class.
If you have questions, please contact Trish Costello at (207) 581-2540 or teresa.costello@maine.edu.