Maine Rare Plants Garden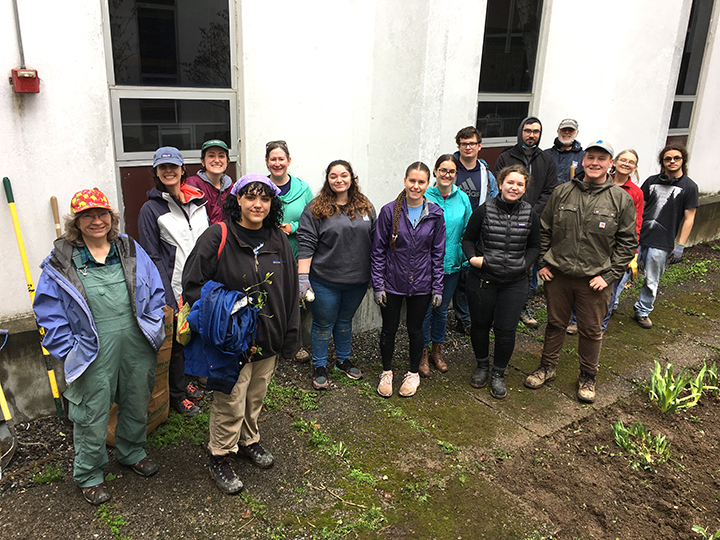 A project of the University of Maine Biology Club and Horticulture Club
with generous support from the Alton '38 and Adelaide Hamm Campus Activity Fund
Acknowledgements:
Special thanks to:

The Alton '38 and Adelaide Hamm Campus Activity Fund.

The UMaine Biology Club and its advisor, Dr. Leonard Kass.

The UMaine Horticulture Club and its advisor, Dr. Stephanie Burnett.

And the many other students and staff who helped create the garden beds on Maine Day 2022.

Josh Young and the staff of UM Facilities Maintenance created a bed for woody plants, allowed us to take over herbaceous plant beds, supplied a mountain of compost, and provided general support and encouragement.

Sarah Smith and Dr. Jose Meireles led work crews on Maine Day 2022.

Serena Williams and John Dieffenbacher-Krall assisted with planting.

Sydney Campano researched each species.

Peg Killian and Dr. Farahad Dastoor provided supplemental watering during the dry summer of 2022.  Peg designed garden signs and built this webpage.

Dr. Robert Causey donated many bags of horse manure compost.

Dr. Ann Dieffenbacher-Krall and Dr. Alison Dibble donated plants from their private gardens.
Mission
Most individuals never have an opportunity to observe rare or endangered plants in their natural habitat, including students interested in botany or conservation.  By providing access to plants that have already become extinct in Maine, and those that are threatened with extinction, people will have a unique opportunity to observe and study these plants and learn about plant conservation.  We hope to engender interest in anyone observing the garden about the forces that endanger plants, including, but not limited to, habitat destruction or degradation, over collecting, rare habitat types, and climate change.  
No plants were collected from the wild for the Maine Rare Plants Garden.  All plants were propagated by nurseries or professional botanists.
Where is the Maine Rare Plants Garden?
The Maine Rare Plants Garden encompasses four beds around Murray Hall.  UMaine Campus Map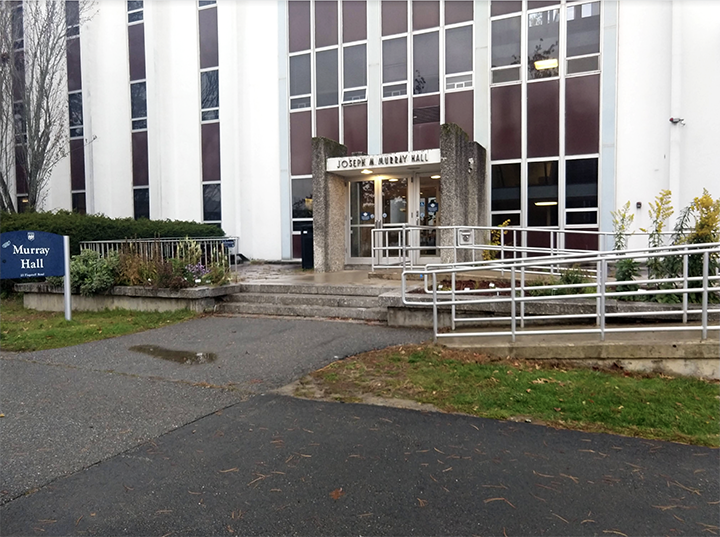 Perennial plants are located in the planter beds to the left (north) and right (south) of the front entrance to the building.  Woody plants are located in a shrub bed on the south side of the building.  A small bed of spring ephemeral plants and plants requiring shade is located in the inner courtyard, accessible inside the building.
Purchasing rare plants
Some of the plants in our rare plants garden are quite common in the nursery trade.  In some cases, these species are globally secure, but rare or presumed extinct in Maine.  This is particularly the case for plants reaching their northern geographic limit in Maine.  Others may require specific conditions for propagation and seedling establishment, making them vulnerable to changes in annual weather patterns in the wild, but easily cared for in nursery and garden settings where soil, water, wind protection and competition are manipulated and plants can be nurtured through the delicate seedling stage.  However, some native plants are challenging to grow in cultivation and are not used in the nursery trade.  For these, cultural information can be difficult to obtain or nonexistent.
We have not attempted to mimic the conditions in which these plants would be found in nature.  Because most of our plants were purchased from nurseries, and nurseries are most apt to grow species that are adaptable and reasonably easy to propagate and grow, most of our plants should be able to adapt to the conditions provided.  While we tend to think of species that are found in rare habitats as requiring the conditions in which they are commonly found, this is not always the case.  Some species are simply poor competitors and cannot thrive in community with species that are better competitors.  They end up restricted to sites where few other species can survive.  In the garden, we remove competition by weeding.
A number of nurseries specialize in native and rare plants.  The Native Plant Trust (Garden in the Woods), Framingham, MA, is committed to conservation of native plants and actively propagates and sells nursery-grown, native plants.  
Why rare plants are rare – Information links
US Forest Service:  Why Are Some Plants Rare?
Maine Natural Areas Program:  Rare Plants – Maine Natural Areas Program
Gardening with Native Plants
Gardening with native species is encouraged over planting non-native species. Native species are more likely to meet the needs of native birds, insects, and other wildlife. Native species are adapted to the predominant climate conditions of the state, and are less likely to need artificial fertilizers, chemical pesticides, or supplemental water to sustain strong growth, and are less likely to be impacted by diseases. Native plants are not invasive as some non-native species may be.
Gardening to Conserve Maine's Native Landscape: Plants to Use and Plants to Avoid
Audubon: Bird-Friendly Communities: Why Native Plants Matter
A Monarch Butterfly Waystation
The largest planting bed in the Murray courtyard was created several years ago as a demonstration pollinator garden.  The idea is to maintain plants that bloom throughout the year to serve as food for bees for the entire growing season.  For farmers, pollinator borders around their fields helps ensure availability of pollinators for the success of their crops.
Together, the Rare Plants Garden and the Pollinator Garden are certified as a Monarch Waystation by Monarch Watch.  The Pollinator Garden includes a population of native common milkweed (Asclepias syriaca) and butterfly weed (Asclepias tuberosa) grows in the Rare Plant bed in front of the building.  Plants in the genus Asclepias are essential food for monarch butterfly caterpillars.  Other flowers in the two gardens provide food for the adult butterflies.  Monarch Waystations provide the resources for successive generations of monarch butterflies. 
Locating the plants in the UM Rare Plants Garden and finding information about them
Woody plants are in a bed on the south side of Murray Hall. 
(A number of new plants have struggled through the very dry summer of 2022. The woody plant bed is located distant from any water source.  Plants that succumb to dry conditions will be replaced in spring 2023.)
Here are the plants located in that bed:
Prunus maritima :  Beach Plum, critically imperiled in Maine (scarce habitat), apparently secure globally
Prunus maritima Marsh. – Rare Plants
https://plantfinder.nativeplanttrust.org/plant/Prunus-maritima
Rhododendron maximum : Great Rosebay, critically imperiled in Maine (at northern range limit), secure globally
Maine Natural Areas Program Rare Plant Fact Sheet for Rhododendron maximum
Great Laurel Rhododendron maximum
https://plantfinder.nativeplanttrust.org/plant/Rhododendron-maximum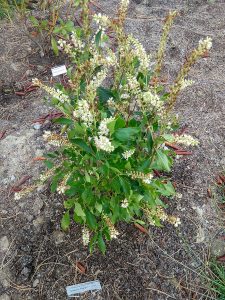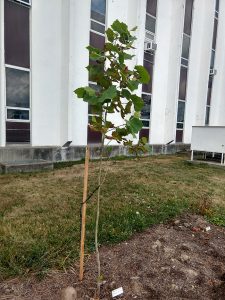 Amelanchier nantuckensis : Nantucket Shadbush, imperiled in Maine (scarce habitat), vulnerable globally
https://www.maine.gov/dacf/mnap/features/amenan.htm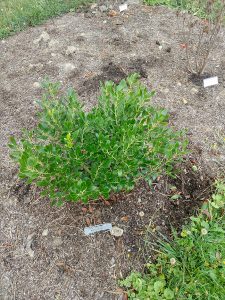 Ilex glabra : Ink-Berry, critically imperiled in Maine (known from a single site, disjunct from principal range), secure globally
Maine Natural Areas Program Rare Plant Fact Sheet for Ilex glabra
Carex oronensis:  Orono sedge, vulnerable in Maine (endemic to Maine) vulnerable globally
https://www.maine.gov/dacf/mnap/features/carxoro.htm
Herbaceous plants are located in the two planting beds in the front (western end) of Murray Hall.  A few herbaceous plants, requiring extra protection, are located in the Murray Hall inner courtyard, in a small, wooden bed in the northeast corner.  The larger planting bed in the courtyard is maintained for the benefit of pollinators and butterflies. Spring ephemeral plants are dormant and may be invisible from mid-summer through fall.  In some cases, plants listed are not well established in our garden as they may be difficult to cultivate, but we will continue trying.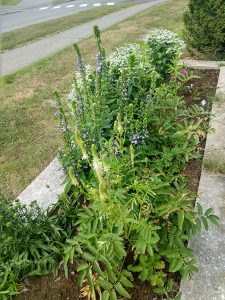 In the northern bed (left of the main entrance) are located:
Baptisia tinctoria : Yellow Wild Indigo, possibly extirpated in Maine (at northern range limit), secure globally
Baptisia tinctoria (L.) R. Br. ex Ait. f.
https://plantfinder.nativeplanttrust.org/plant/Baptisia-tinctoria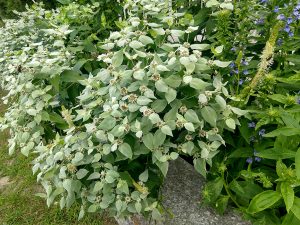 Pycnanthemum muticum : Clustered Mountain-Mint, possibly extirpated in Maine (at northern Maine limit), secure globally
Pycnanthemum muticum (Michx.) Pers. – Rare Plants
https://plantfinder.nativeplanttrust.org/plant/Pycnanthemum-muticum
Sanguisorba canadensis : Canada Burnet, critically imperiled in Maine (disjunct from principal range), secure globally
Maine Natural Areas Program Rare Plant Fact Sheet for Sanguisorba canadensis
https://plantfinder.nativeplanttrust.org/plant/Sanguisorba-canadensis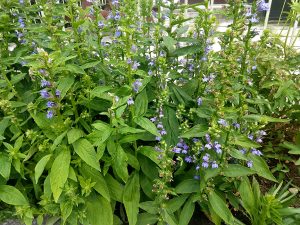 Lobelia siphilitica : Great Blue Lobelia, presumed extirpated in Maine, secure globally
Maine Natural Areas Program Rare Plant Fact Sheet for Lobelia siphilitica
https://plantfinder.nativeplanttrust.org/plant/Lobelia-siphilitica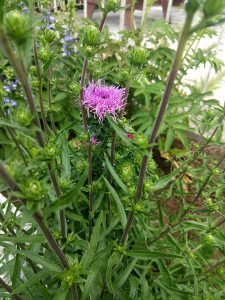 Liatris novae-angliae : Northern Blazing Star, critically imperiled in Maine (at northern range limit, rare habitat type), secure globally
Maine Natural Areas Program Rare Plant Fact Sheet for Liatris novae-angliae
Natural Heritage New England Blazing Star & Endangered Species Liatris novae-angliae – Program
https://plantfinder.nativeplanttrust.org/plant/Liatris-novae-angliae
Carex oronensis:  Orono sedge, vulnerable in Maine (endemic to Maine) vulnerable globally
https://www.maine.gov/dacf/mnap/features/carxoro.htm
Carex bicknellii: Bicknell's Sedge, Prairie Sedge, critically imperiled in Maine (at northern end of range), globally secure
In the southern bed (right of the main entrance) are located:
Hypoxis hirsuta : Yellow Star-grass, presumed extirpated in Maine (last observed 1936), secure globally
Maine Natural Areas Program Rare Plant Fact Sheet for Hypoxis hirsuta
https://plantfinder.nativeplanttrust.org/plant/Hypoxis-hirsuta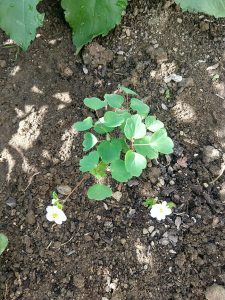 Thalictrum thalictroides : Rue-Anemone, critically imperiled in Maine (at northern range limit), secure globally
Maine Natural Areas Program Rare Plant Fact Sheet for Thalictrum thalictroides
https://plantfinder.nativeplanttrust.org/plant/Thalictrum-thalictroides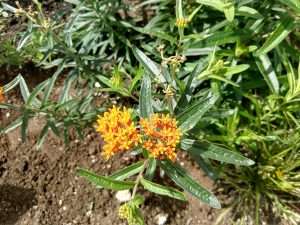 Asclepias tuberosa : Butterfly Weed, presumed extirpated in Maine, secure globally
Asclepias tuberosa L. – Maine Natural Areas Program
butterfly milkweed Asclepias tuberosa from New England Wild Flower Society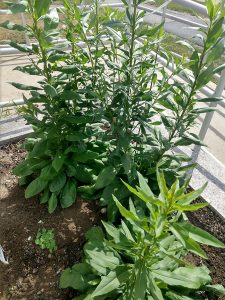 Solidago speciosa : Showy Goldenrod, critically imperiled in Maine (at northern range limit), secure globally
Solidago speciosa Nutt. – Maine Natural Areas Program
https://gobotany.nativeplanttrust.org/species/solidago/speciosa/
Lupinus perennis : Wild Lupine, Sundial Lupine, presumed extirpated in Maine (northern limit of range), apparently secure globally
Maine Natural Areas Program Rare Plant Fact Sheet for Lupinus perennis
https://plantfinder.nativeplanttrust.org/plant/Lupinus-perennis
Carex eburnea : Ebony Sedge, critically imperiled in Maine (calcareous sites), secure globally
https://www.maine.gov/dacf/mnap/features/carxebu.htm
Elymus hystrix : Bottlebrush Grass, vulnerable in Maine, secure globally
https://www.maine.gov/dacf/mnap/features/elyhys.htm
Sorghastrum nutans : Indian Grass, critically imperiled in Maine (northern limit of range), secure globally
https://www.maine.gov/dacf/mnap/features/sornut.htm
In the Murray courtyard raised bed are located: 
Dicentra canadensis : Squirrel-corn, critically imperiled in Maine, secure globally
Maine Natural Areas Program Rare Plant Fact Sheet for Dicentra canadensis
https://plantfinder.nativeplanttrust.org/plant/Dicentra-canadensis
Panax quinquefolius : American Ginseng, vulnerable in Maine (northern limit of range, over harvesting of wild populations), vulnerable globally
American Ginseng – Panax quinquefolius
https://www.mass.gov/doc/american-ginseng/download
Trillium grandiflorum : Large White Trillium, possibly extirpated in Maine, secure globally
Maine Natural Areas Program Rare Plant Fact Sheet for Trillium grandiflorum
https://plantfinder.nativeplanttrust.org/plant/Trillium-grandiflorum
Asarum canadense : Canada Wild Ginger, imperiled in Maine (at northern range limit), secure globally
Maine Natural Areas Program Rare Plant Fact Sheet for Asarum canadense
Asarum canadense – Canada wild ginger
http://missouriplants.com/Allium_canadense_page.html
Allium tricoccum : Ramps,  Wild Leek, vulnerable in Maine (northern limit of range), secure globally
Allium tricoccum Ait. – Maine Natural Areas Program
ramps Allium tricoccum from New England Wild Flower Society
Ramps – Allium tricoccum – United Plant Savers
https://www.sciencedirect.com/science/article/pii/S0006320703001939
Anemone acutiloba : Sharp-lobed Hepatica, presumed extinct in Maine, secure globally
Anemone acutiloba (DC.) G. Lawson – Rare Plants
http://missouriplants.com/Hepatica_acutiloba_page.html
https://plantfinder.nativeplanttrust.org/plant/Anemone-acutiloba