Resources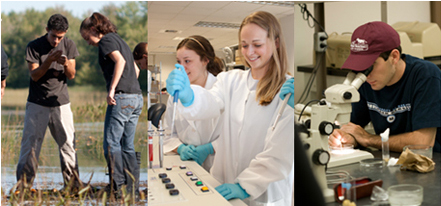 Research Focus Areas
The School of Biology and Ecology aims to achieve departmental breadth with course offerings that span level of organization from the cell to the ecosystem.
Affiliated Research Resources
The School of Biology and Ecology is affiliated with educational facilities and research centers throughout Maine and into Canada. Learn more about specific affiliations here.
Facilities
The University of Maine and School of Biology and Ecology maintain multiple research facilities and collections, including the Fay Hyland Arboretum,  Greenhouse Complex,  Blueberry Hill Research Farm, Penobscot Experimental Forest, Maine Herbaria, DNA Sequencing Facility, Laboratory for Paleoecology and Paleohydrology, and the Electron Microscopy Laboratory.
Maine Neuroscience
Find out about the Maine Chapter of the Society for Neuroscience (SfN), which includes researchers at The University of Maine, University of New England (UNE), Bates, Colby, Bowdoin, University of Southern Maine, Jackson Laboratories, Maine Medical Center and MMCRI, Mount Desert Island Biological Laboratory (MDIBL), and various other companies and research institutions across Maine.
Seminar Series
Find the schedule of speakers for this semester's weekly seminar series.
Synapse
The School of Biology and Ecology developed its own Learning Content Management System, Synapse, to facilitate rich media being delivered to large introductory courses. It also provides a robust rubric, allowing consistent grading and feedback in the inquiry-based laboratories.