SBE Faculty Research Showcase
School of Biology and Ecology Spring Seminar Series presents:
SBE FACULTY RESEARCH SHOWCASE 2017
Friday, January 20, 2017 at 3:15 p.m. in 107 Norman Smith Hall. For information, please contact Dr. Danielle Levesque (danielle.l.levesque@maine.edu, 207-581-2511).
All are welcome! Refreshments served at 3:00 p.m.
If you are a person with a disability and need an accommodation to participate in this program, please call Trish Costello at 207-581-2540 to discuss your needs. Receiving requests for accommodations at least two days before the program provides a reasonable amount of time to meet the request, however all requests will be considered.
The University of Maine does not discriminate on the grounds of race, color, religion, sex, sexual orientation, including transgender status and gender expression, natural origin, citizenship status, age, disability, genetic information or veterans status in employment, education, and all other programs and activities. The following person has been designated to handle inquiries regarding nondiscrimination policies: Director, Office of Equal Opportunity, 101 North Stevens Hall, 207-581-1226.
India Stewart '13 Featured In UMaine Today
India Stewart is featured in UMaine Today as one of the participants of the Maine Track Early Assurance Program, which guarantees students a future spot at Tufts University School of Medicine (TUSM) while they are still early in their University of Maine undergraduate career. Stewart, a graduate of Bucksport High School, received her degree in Biology from the University of Maine in 2013. She is currently in her fourth year of medical school at TUSM and has found her calling in the field of obstetrics and gynecology.
Kim Dao '14 Featured in UMaine Today
Kimberly Dao, who graduated with a degree in Biology from the University of Maine in 2014, has a feature article dedicated to her in the latest issue of UMaine Today. Kim is currently a student at Tufts University School of Medicine, where she was accepted after applying to the Maine Track Early Assurance Program. Kim was also a keynote speaker at the 2016 University of Maine Foundation Annual Luncheon.
Holiday Baking Contest Winner
Jessica Haghkerdar's chocolate cream log with merengue mushrooms won our holiday baking contest. Congratulations!!!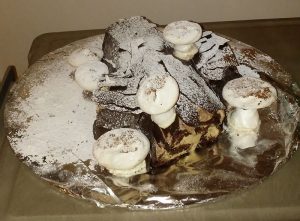 Six SBE Faculty Members Publish an Education Journal Article
Six faculty members in SBE (Karen Pelletreau, Farahad Dastoor, Hamish Greig, Robert Northington, Brian Olsen, and Michelle Smith) are co-authors on a recent publication about teaching the Central Dogma, which is a core concept of biology. The UMaine faculty led a collaboration with faculty from the University of Georgia, University of Colorado-Boulder, University of South Florida, Michigan State University, and Stony Brook University to identify student conceptual difficulties about the Central Dogma and develop an in-class active-learning activity that positively impacted student learning. The project involved an unprecedented number of faculty (both within UMaine and at all these different institutions) working together to design an effective lesson for the undergraduate biology classroom.  
New Graduate Fellowship for the School of Biology and Ecology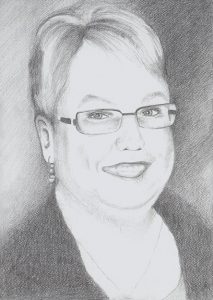 The Ellen Keough Hodosh, PhD, Graduate Fellowship Fund was established in 2016 in the University of Maine Foundation for the benefit of the University of Maine, Orono, Maine, with a gift from Ralph J. Hodosh in loving memory of his wife, Ellen Keough Hodosh. Ralph and Ellen were first generation college students, met at the University of Maine and earned their doctorates in Zoology in 1978. At the time of her death, Ellen was the Executive Director of Global Medical Writing for Astellas Pharma Global Development, a department that she built. Prior to joining Fujisawa Pharmaceuticals, the precursor to Astellas Pharma, Ellen spent six years doing medical research at Tufts Medical Center, Boston, after which she established her credentials as a globally recognized medical and technical writer. Although Ellen's career was cut short by her untimely passing, she was instrumental in gaining government approval of important pharmaceuticals including ones used for the treatment of life-threatening fungal infections and the prevention of organ transplant rejection.
The fund may cover tuition, stipend, benefits (including health insurance), travel and other expenses for teaching or research graduate assistants in the School of Biology and Ecology. A first preference shall be given to Master of Science or Doctor of Philosophy students pursuing a degree in the School who choose to study for a semester, summer or academic year in Israel. A second preference shall be given to Master of Science or Doctor of Philosophy students pursuing a degree in the School who are working on collaborative projects with Israeli scientists and who wish to visit their Israeli colleague's labs or to host their Israeli colleagues on campus.
Applications for Hodosh Fellowship should be submitted to the director of the School of Biology and Ecology. All applications will be reviewed by School's Graduate Committee.
SBE Graduate Featured in UMaine Today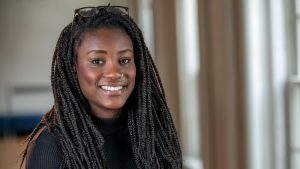 Noelle Leon-Palmer, a recent School of Biology and Ecology graduate, was interviewed for a feature in UMaine Today. Noelle discusses her honors thesis about the physiology, neurobiology, and endocrinology of love, playing on the University of Maine women's soccer team, and her upcoming position as an honors associate in the Honors College.
Click here to read the full feature and interview.
Drummond Featured in UMaine Today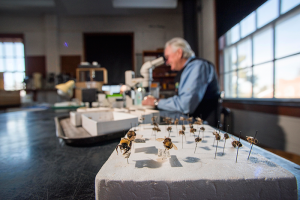 The Drummond lab is profiled in this UMaine Today feature, including discussions about Dr. Frank Drummond's decades of bee research, colony collapse disorder, and current ongoing research by the many students and technicians involved with the lab.
Click here to read the full feature at UMaine Today.
Plummeting Saltmarsh Sparrow Population Makes Headlines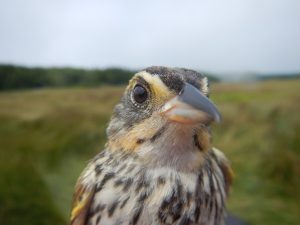 Research from Dr. Brian Olsen's lab, in conjunction with the Saltmarsh Habitat & Avian Research Program (SHARP), shows that the saltmarsh sparrow population in Maine has decreased nearly 11 percent annually since 1998. The AP version of the article was distributed by ABC News, the Washington Post, and many others.
Click here to read details about the causes of the decline and what can be done to help avoid extinction of the saltmarsh sparrow and other birds that rely on marshes.
Hamley Receives NSF Graduate Research Fellowship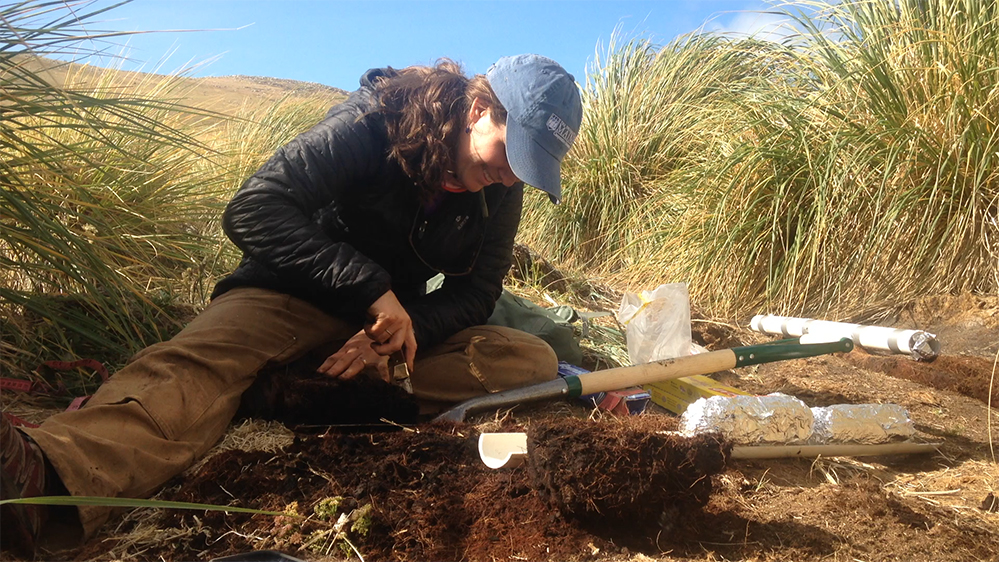 Catherine (Kit) Hamley, a graduate student under School of Biology and Ecology professor, Jacquelyn Gill, has been awarded a National Science Foundation Graduate Research Fellowship to continue her research in Quaternary studies while pursuing a doctorate degree through the Ecology and Environmental Sciences Program. Hamley's work to date has focused on the Falkland Islands where she studies an extinct, endemic fox, called the warrah. Little is known about the human history of the islands, as well as how the warrah made their way to the isolate oceanic islands. Hamley examines the charcoal record taken from peat cores, combining archaeological techniques in conjunction with paleoecological techniques, to investigate arrival times of both the warrah and humans to the islands.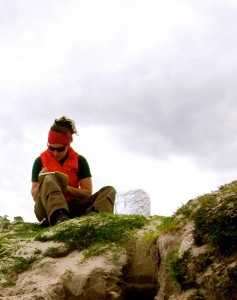 The data collected by Hamley is used to assess what sort of impact precolonial humans may have had on the landscape through the use of fire and to help understand the impacts that both introductions and extinctions have on island ecosystems. She will continue to research human-environmental interactions through time for her PhD.
The NSF Graduate Research Fellowship Program (GRFP) supports outstanding graduate students in science, technology, engineering, and mathematics (STEM) and STEM education fields by providing three years of support for graduate education. The program intends to help ensure vitality and diversity of the scientific and engineering workforce of the United States. Out of more than 17,000 applicants, Hamley is one of 2,000 students who received a fellowship, given to those who demonstrate potential for significant research achievements in STEM and STEM education.
Congratulations to Kit Hamley!
Wood Named A UMaine 2016 Outstanding Graduating Student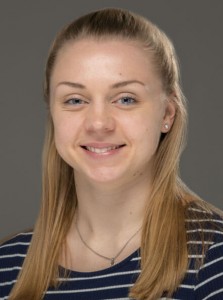 School of Biology and Ecology student, Elizabeth Wood of Catlett, Virginia, has been named the Outstanding Graduating Student in the College of Natural Sciences, Forestry, and Agriculture at the University of Maine.
Wood is an honors student majoring in biology with a pre-med concentration, and a minor in chemistry. She is a member of UMaine's women's basketball team, serving as captain for the past two seasons.
Her numerous academic and athletic awards include the America East Elite 18 Award, America East Female Scholar-Athlete of the Year and 2015 Dean Smith Award.
The summer after her sophomore year, Wood participated in a NASA-funded cancer biology internship project at Colorado State University. At UMaine, her honors research focused on prevention of Type 2 diabetes, exploring nerve function, calories, energy expenditure and fat storage. The title of her thesis: "Novel Role of Neurotrophic Factor in White Adipose Tissue."
Wood has served as president of the UMaine Student-Athlete Advisory Committee and the America East Conference representative on the Division I Student-Athlete Advisory Committee.
She plans to pursue a professional basketball career, followed by medical school.
A profile about Wood's UMaine student experience is online.
Wood is one of eleven undergraduate students to receive this recognition at the University of Maine. Read about the other 2016 Outstanding Graduating Students here.
2016 School of Biology and Ecology Student Awards, Prizes, and Scholarships
SBE Academic Awards
Highest GPA in a major within the School
First Year
Katherine Evans
Lucia Guarnieri
Emily Gagne
Sophomore
Jackson Foley
Callie Greco
Jacqueline Lambert
Junior
Sigrid Koizar
Kaitlin Clark
Haley Netherton
Senior
Elizabeth Wood
Erik Holmsen
---
School of Biology & Ecology
Academic Achievement Award
Awarded to the graduating senior having the highest GPA
Anne Yu
---
Richard C. Wadsworth Annual Memorial Prize
Awarded to the highest-ranking junior or senior enrolled in the MLS program
Hannah Gowen
---
Dahl-Chase Pathology Associates Medical Technology Scholarship
Awarded to an outstanding MLS student who attended a Maine High School
Emily St. Pierre
---
Frank H. Lathrop Scholarship
Awarded to high-achieving juniors and continuing seniors who are Maine residents majoring in Biological Sciences
Cordell Beaton
Sarah Holbrook
---
Wayland A. Shands Scholarship Fund
Awarded to a student of Entomology with high academic standing
Eric Bastidas
---
Auburn E. and Lurana C. Brower Scholarship
Awarded to an outstanding junior with an interest in Entomology
 Chase Gagne
---
Fay Hyland-Hilborn Prize in Plant Biology
 Alex Bajcz
---
Graduate Prize in Animal Biology
 Justin Lewin
---
Edith M. Patch – Frank H. Lathrop
Prize in Entomology
Jack McLachlan
---
Outstanding Teaching Assistant Award
 Heather Arnett
---
SBE Graduate Student Travel Award
Alex Bajcz
Jessica Haghkerdar
---
College of Natural Sciences, Forestry, and Agriculture Awards
Frank B. and Charles S. Bickford Prize
Awarded to an outstanding graduating senior in the College of Natural Sciences, Food, and Agriculture
 Elizabeth E. Wood
Greig Receives Maine Sea Grant
Hamish Greig has received a Maine Sea Grant to study Atlantic Salmon. Click here to read the full story.
Maine Sea Grant awards funds for three UMaine research projects
Smith Receives PALM Fellowship
Chris Baker, a postdoc from the Jackson Laboratory, and Michelle Smith, and assistant professor in the School of Biology and Ecology and member of the Maine Center for Research in STEM Education, were awarded a PALM fellowship from the Genetics Society of America. This is the first year the PALM fellowship has been awarded, and Smith and Baker were selected as one of the three total mentor/mentee pairs.
The significance of this fellowship lies in the collaboration between the Jackson Laboratory and the University of Maine. Under the fellowship, which is meant to help postdocs gain teaching experience about active learning, Baker and Smith will be working on a genetic recombination classroom unit together, and Baker will be filling in to teach the corresponding unit for Smith's genetics course, BIO 350, in March. As part of the fellowship, Smith will be mentoring Baker during the process, offering feedback, and providing guidance during the development of the unit while he is teaching.
Smith's students are already accustomed to utilizing clickers and peer discussion in the classroom, but she will be able to update her classroom teaching through Baker's fresh perspective and research experience. By combining their knowledge, experience and technique in the world of genetics and active learning, Smith and Baker will be contributing to the improvement of STEM education.
A New Perspective on Old Ideas: Welcoming Danielle Levesque
   Living in one place, studying one central ecosystem, working with a species that can be explained in one sentence…these things, among many others, will likely never play a role in Danielle Levesque's research in the mammalian world. Ever since discovering in her undergraduate years that she did not need to be a vet to work with animals, an entire world filled with exciting research and opportunities presented itself to Levesque. When it came to the significant decisions concerning her educational path, having already explored many vast opportunities around the world, Levesque was eventually led to her position as Assistant Professor of Mammalogy and Mammalian Health in the School of Biology and Ecology at the University of Maine.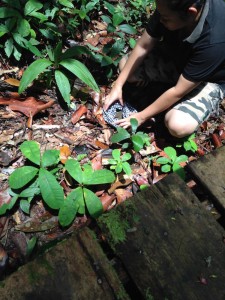 When choosing which institution to attend for her undergraduate years, Levesque searched for somewhere the program would be opportunistic and exciting, yet small enough to be engaging and personal. After what seemed to be a fairly obvious choice, she chose the Macdonald Campus at McGill University in Montreal, Canada, studying Wildlife Biology. It was during her four years at McGill that Levesque was introduced to her passion: research in mammalian temperature regulation. It was only after discovering this field of research and becoming involved with the scientists on her campus that she realized she could not think of any reason to continue pursuing a veterinary career when this field of research as work existed. From then on, Levesque decided that she would try to stay in this field of research for as long as possible, and she never looked back.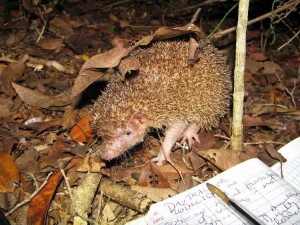 Only a year or two after being introduced to intensive mammalian work at McGill, Levesque took a semester abroad in Australia working with echidnas, which she labeled as "the weirdest mammal possible in terms of temperature regulation," due to their thermoregulation being very variable and only constant when incubating, among other factors, making them a good model for what things must have been like for early mammals. Following her undergraduate years, Levesque chose to get her masters at Brock University in St-Catharines, Canada, where she took a more mechanistic approach focusing on chipmunks for the majority of her research. After that, she took a break from school and traveled to Africa to participate in the Meerkat Project research for six months before traveling to South Africa to get her PhD while doing fieldwork in Madagascar. Finally, after much travel, exposure, and education, Levesque moved to Sarawak, in Malaysia Borneo for her post-doc, and it was there that she learned that there was very little data concerning animals in the tropics, and very rarely were these animals considered when scientific determinations were made concerning mammalian exposure and reactions to heat, humidity, and climate change.
When Levesque contemplates the overall picture, what comes to mind is the manner in which people are trying to initiate change under a limited perspective. While any effort to improve the natural world is effort worth recognizing, Levesque realizes that understanding how climate history has shaped different patterns is the key component to triggering change from within.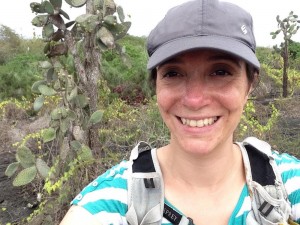 "People are putting together these big, wide-scale models about how animals are going to respond to climate change, and they are doing it based off of data measured from animals in climates like the one in Maine where they have a long history of being exposed to the cold," stated Levesque.  What we need to do in order to understand the bigger picture, she suggests, is recognize that animals with no evolutionary history of cold respond very differently to climate change, thus we cannot make progress in the right direction without taking into consideration the animals outside of the Northern Hemisphere.
"If you look at how anything else in the world works, anything below 10 degrees latitude, that includes the tropics and the southern hemisphere, it is very different" -Levesque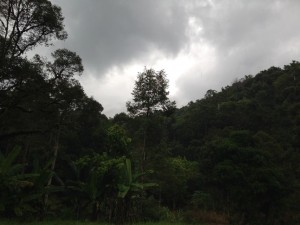 Before, and even during, her time spent in the tropics, Levesque realized that they had no idea how mammals and humidity interacted, which would prove to be an extremely significant factor in the comparison of environments and understanding climate change as a whole. In order to make future predictions for the ranges of species in areas of varying climate and humidity, there must be a broad perspective, and this was a task that Levesque was willing to undertake as the bulk of her work.
Levesque is still taking time to settle in and adjust to the American Educational system here at the University of Maine. While she has taken her first semester to complete the more organizational tasks around her lab and teach her first semester of mammalogy, she plans to start up the research in her lab this coming fall. Using model species on campus, such as squirrels or mice, Levesque and those working in her lab will be testing the basic and fundamental concepts that were looked at very briefly in the 60's but are in need of a fresh perspective and an updated set of details. Likewise to all ever growing scientific fields, in order to continue making advancements, individuals like Levesque must prompt change by applying their unique and knowledgeable experiences to the ideas worth reconsidering.

For more information on Levesque and her research, please feel free to visit her website at: http://borneomammalthermoregulation.weebly.com/danielle-levesque.html
The Ecology and Evolution of Everything: A Discussion Group
This & Every Thursday @ 11:00 – 12:15
in centrally located 
101 Norman Smith Hall
Intended for students, faculty, and staff!

This spring, faculty from Biology & Ecology, Economics, and Wildlife Ecology will again offer a weekly discussion group open to all who are interested.  Largely the group will cover three themes across both non-human and human systems:

1. Ecology
2. Evolution
3. Complex Adaptive Systems

During each meeting, faculty, research staff, or graduate students from any academic unit will either:
A) present unpolished ideas on their research in one of the above themes or 
B) discuss a recent, titillating article (that has broad accessibility) addressing these themes.  
Folks in the past have presented thesis proposals, grant drafts, paper ideas, conference talks, and just plain things they wanted input on.  And we've covered readings concerning the application of theory in diverse circumstances (e.g. conservation biology, health sciences, natural resource extraction, human language, sociology, community engineering).  
We encourage all who are interested from any academic unit to attend.
—————————————————————————————————-

IF YOU'RE A GRAD STUDENT AND NEED A SEMINAR COURSE, YOU CAN TAKE THIS FOR CREDIT (P/F)!
Graduate Students can take this seminar FOR CREDIT by signing up for:
EES 590 – "Special Topic in EES" 
Section 0001
———————————————————————————–
THURSDAY, January 28th, will be the organizational meeting for the entire Seminar, so come to learn more.
SEND QUESTIONS OR COMMENTS TO BRIAN OLSEN, JACQUELYN GILL, HAMISH GREIG, MIKE KINNISON, BRIAN MCGILL, or TIM WARING
Kinnison Featured in UMaine Today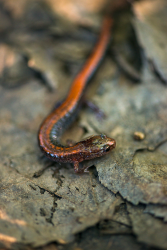 Dr. Michael Kinnison and School of Biology and Ecology graduate student, Nikko Shaidani, are featured in UMaine Today for their work on red-backed salamanders. They discuss how the mainland species came to be abundant residents of almost all the Maine coastal islands and how genetic testing offers clues to their evolutionary history and diversity.
https://umainetoday.umaine.edu/archives/fallwinter-2015/mysterious-islanders/
Gill Featured in UMaine Today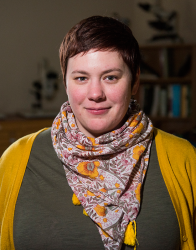 Dr. Jacquelyn Gill talks about climate change, the impact of large mammals on ecosystems, and the de-extinction of the woolly mammoths in this UMaine Today feature.
https://umainetoday.umaine.edu/archives/fallwinter-2015/thinking-big/
Townsend Lab Featured in UMaine Today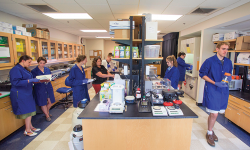 Kristy Townsend's scientific roots reach back to her undergraduate years at the University of Maine.
"Some of the most important and formative scientific experiences in my life were when I was mentored as a young scientist and was able to work alongside faculty on novel research projects," says Townsend, whose undergraduate research included collaboration with UMaine Professor of Psychology Alan Rosenwasser on studies of circadian rhythms.
http://umainetoday.umaine.edu/archives/fallwinter-2015/brain-power/
Holberton's Migratory Bird Research Featured in UMaine Today
Dr. Rebecca Holberton talks about declining migration numbers of songbirds in this UMaine Today article.