New Graduate Fellowship for the School of Biology and Ecology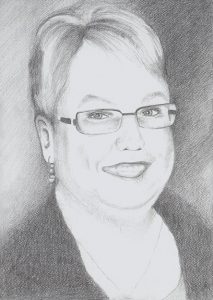 The Ellen Keough Hodosh, PhD, Graduate Fellowship Fund was established in 2016 in the University of Maine Foundation for the benefit of the University of Maine, Orono, Maine, with a gift from Ralph J. Hodosh in loving memory of his wife, Ellen Keough Hodosh. Ralph and Ellen were first generation college students, met at the University of Maine and earned their doctorates in Zoology in 1978. At the time of her death, Ellen was the Executive Director of Global Medical Writing for Astellas Pharma Global Development, a department that she built. Prior to joining Fujisawa Pharmaceuticals, the precursor to Astellas Pharma, Ellen spent six years doing medical research at Tufts Medical Center, Boston, after which she established her credentials as a globally recognized medical and technical writer. Although Ellen's career was cut short by her untimely passing, she was instrumental in gaining government approval of important pharmaceuticals including ones used for the treatment of life-threatening fungal infections and the prevention of organ transplant rejection.
The fund may cover tuition, stipend, benefits (including health insurance), travel and other expenses for teaching or research graduate assistants in the School of Biology and Ecology. A first preference shall be given to Master of Science or Doctor of Philosophy students pursuing a degree in the School who choose to study for a semester, summer or academic year in Israel. A second preference shall be given to Master of Science or Doctor of Philosophy students pursuing a degree in the School who are working on collaborative projects with Israeli scientists and who wish to visit their Israeli colleague's labs or to host their Israeli colleagues on campus.
Applications for Hodosh Fellowship should be submitted to the director of the School of Biology and Ecology. All applications will be reviewed by School's Graduate Committee.
SBE Graduate Featured in UMaine Today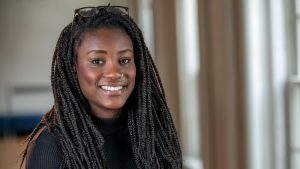 Noelle Leon-Palmer, a recent School of Biology and Ecology graduate, was interviewed for a feature in UMaine Today. Noelle discusses her honors thesis about the physiology, neurobiology, and endocrinology of love, playing on the University of Maine women's soccer team, and her upcoming position as an honors associate in the Honors College.
Click here to read the full feature and interview.
Drummond Featured in UMaine Today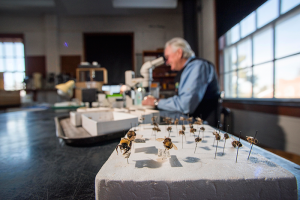 The Drummond lab is profiled in this UMaine Today feature, including discussions about Dr. Frank Drummond's decades of bee research, colony collapse disorder, and current ongoing research by the many students and technicians involved with the lab.
Click here to read the full feature at UMaine Today.
Plummeting Saltmarsh Sparrow Population Makes Headlines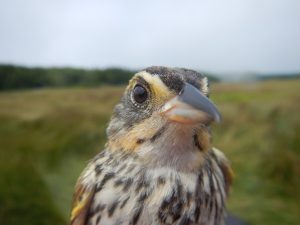 Research from Dr. Brian Olsen's lab, in conjunction with the Saltmarsh Habitat & Avian Research Program (SHARP), shows that the saltmarsh sparrow population in Maine has decreased nearly 11 percent annually since 1998. The AP version of the article was distributed by ABC News, the Washington Post, and many others.
Click here to read details about the causes of the decline and what can be done to help avoid extinction of the saltmarsh sparrow and other birds that rely on marshes.
Hamley Receives NSF Graduate Research Fellowship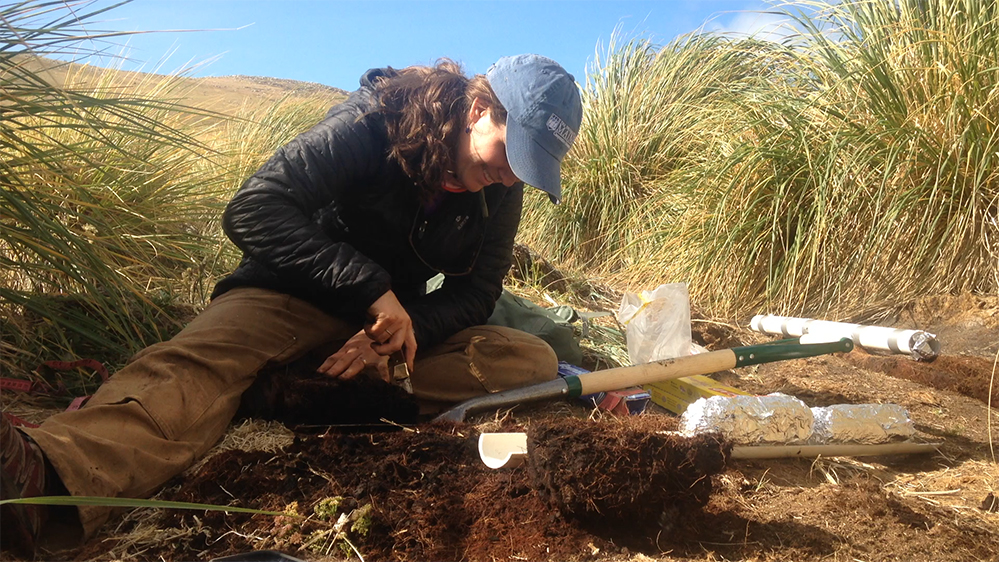 Catherine (Kit) Hamley, a graduate student under School of Biology and Ecology professor, Jacquelyn Gill, has been awarded a National Science Foundation Graduate Research Fellowship to continue her research in Quaternary studies while pursuing a doctorate degree through the Ecology and Environmental Sciences Program. Hamley's work to date has focused on the Falkland Islands where she studies an extinct, endemic fox, called the warrah. Little is known about the human history of the islands, as well as how the warrah made their way to the isolate oceanic islands. Hamley examines the charcoal record taken from peat cores, combining archaeological techniques in conjunction with paleoecological techniques, to investigate arrival times of both the warrah and humans to the islands.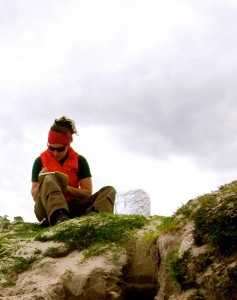 The data collected by Hamley is used to assess what sort of impact precolonial humans may have had on the landscape through the use of fire and to help understand the impacts that both introductions and extinctions have on island ecosystems. She will continue to research human-environmental interactions through time for her PhD.
The NSF Graduate Research Fellowship Program (GRFP) supports outstanding graduate students in science, technology, engineering, and mathematics (STEM) and STEM education fields by providing three years of support for graduate education. The program intends to help ensure vitality and diversity of the scientific and engineering workforce of the United States. Out of more than 17,000 applicants, Hamley is one of 2,000 students who received a fellowship, given to those who demonstrate potential for significant research achievements in STEM and STEM education.
Congratulations to Kit Hamley!
Wood Named A UMaine 2016 Outstanding Graduating Student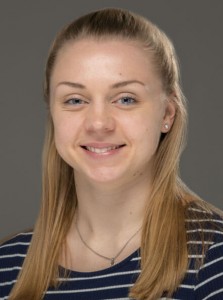 School of Biology and Ecology student, Elizabeth Wood of Catlett, Virginia, has been named the Outstanding Graduating Student in the College of Natural Sciences, Forestry, and Agriculture at the University of Maine.
Wood is an honors student majoring in biology with a pre-med concentration, and a minor in chemistry. She is a member of UMaine's women's basketball team, serving as captain for the past two seasons.
Her numerous academic and athletic awards include the America East Elite 18 Award, America East Female Scholar-Athlete of the Year and 2015 Dean Smith Award.
The summer after her sophomore year, Wood participated in a NASA-funded cancer biology internship project at Colorado State University. At UMaine, her honors research focused on prevention of Type 2 diabetes, exploring nerve function, calories, energy expenditure and fat storage. The title of her thesis: "Novel Role of Neurotrophic Factor in White Adipose Tissue."
Wood has served as president of the UMaine Student-Athlete Advisory Committee and the America East Conference representative on the Division I Student-Athlete Advisory Committee.
She plans to pursue a professional basketball career, followed by medical school.
A profile about Wood's UMaine student experience is online.
Wood is one of eleven undergraduate students to receive this recognition at the University of Maine. Read about the other 2016 Outstanding Graduating Students here.
2016 School of Biology and Ecology Student Awards, Prizes, and Scholarships
SBE Academic Awards
Highest GPA in a major within the School
First Year
Katherine Evans
Lucia Guarnieri
Emily Gagne
Sophomore
Jackson Foley
Callie Greco
Jacqueline Lambert
Junior
Sigrid Koizar
Kaitlin Clark
Haley Netherton
Senior
Elizabeth Wood
Erik Holmsen
---
School of Biology & Ecology
Academic Achievement Award
Awarded to the graduating senior having the highest GPA
Anne Yu
---
Richard C. Wadsworth Annual Memorial Prize
Awarded to the highest-ranking junior or senior enrolled in the MLS program
Hannah Gowen
---
Dahl-Chase Pathology Associates Medical Technology Scholarship
Awarded to an outstanding MLS student who attended a Maine High School
Emily St. Pierre
---
Frank H. Lathrop Scholarship
Awarded to high-achieving juniors and continuing seniors who are Maine residents majoring in Biological Sciences
Cordell Beaton
Sarah Holbrook
---
Wayland A. Shands Scholarship Fund
Awarded to a student of Entomology with high academic standing
Eric Bastidas
---
Auburn E. and Lurana C. Brower Scholarship
Awarded to an outstanding junior with an interest in Entomology
 Chase Gagne
---
Fay Hyland-Hilborn Prize in Plant Biology
 Alex Bajcz
---
Graduate Prize in Animal Biology
 Justin Lewin
---
Edith M. Patch – Frank H. Lathrop
Prize in Entomology
Jack McLachlan
---
Outstanding Teaching Assistant Award
 Heather Arnett
---
SBE Graduate Student Travel Award
Alex Bajcz
Jessica Haghkerdar
---
College of Natural Sciences, Forestry, and Agriculture Awards
Frank B. and Charles S. Bickford Prize
Awarded to an outstanding graduating senior in the College of Natural Sciences, Food, and Agriculture
 Elizabeth E. Wood
Greig Receives Maine Sea Grant
Hamish Greig has received a Maine Sea Grant to study Atlantic Salmon. Click here to read the full story.
Maine Sea Grant awards funds for three UMaine research projects
Smith Receives PALM Fellowship
Chris Baker, a postdoc from the Jackson Laboratory, and Michelle Smith, and assistant professor in the School of Biology and Ecology and member of the Maine Center for Research in STEM Education, were awarded a PALM fellowship from the Genetics Society of America. This is the first year the PALM fellowship has been awarded, and Smith and Baker were selected as one of the three total mentor/mentee pairs.
The significance of this fellowship lies in the collaboration between the Jackson Laboratory and the University of Maine. Under the fellowship, which is meant to help postdocs gain teaching experience about active learning, Baker and Smith will be working on a genetic recombination classroom unit together, and Baker will be filling in to teach the corresponding unit for Smith's genetics course, BIO 350, in March. As part of the fellowship, Smith will be mentoring Baker during the process, offering feedback, and providing guidance during the development of the unit while he is teaching.
Smith's students are already accustomed to utilizing clickers and peer discussion in the classroom, but she will be able to update her classroom teaching through Baker's fresh perspective and research experience. By combining their knowledge, experience and technique in the world of genetics and active learning, Smith and Baker will be contributing to the improvement of STEM education.
A New Perspective on Old Ideas: Welcoming Danielle Levesque
   Living in one place, studying one central ecosystem, working with a species that can be explained in one sentence…these things, among many others, will likely never play a role in Danielle Levesque's research in the mammalian world. Ever since discovering in her undergraduate years that she did not need to be a vet to work with animals, an entire world filled with exciting research and opportunities presented itself to Levesque. When it came to the significant decisions concerning her educational path, having already explored many vast opportunities around the world, Levesque was eventually led to her position as Assistant Professor of Mammalogy and Mammalian Health in the School of Biology and Ecology at the University of Maine.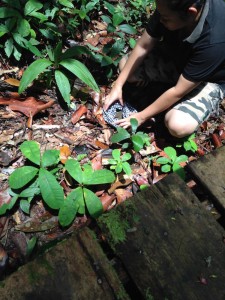 When choosing which institution to attend for her undergraduate years, Levesque searched for somewhere the program would be opportunistic and exciting, yet small enough to be engaging and personal. After what seemed to be a fairly obvious choice, she chose the Macdonald Campus at McGill University in Montreal, Canada, studying Wildlife Biology. It was during her four years at McGill that Levesque was introduced to her passion: research in mammalian temperature regulation. It was only after discovering this field of research and becoming involved with the scientists on her campus that she realized she could not think of any reason to continue pursuing a veterinary career when this field of research as work existed. From then on, Levesque decided that she would try to stay in this field of research for as long as possible, and she never looked back.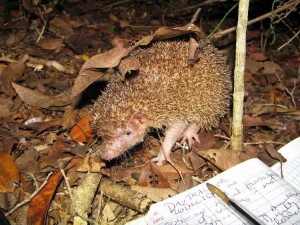 Only a year or two after being introduced to intensive mammalian work at McGill, Levesque took a semester abroad in Australia working with echidnas, which she labeled as "the weirdest mammal possible in terms of temperature regulation," due to their thermoregulation being very variable and only constant when incubating, among other factors, making them a good model for what things must have been like for early mammals. Following her undergraduate years, Levesque chose to get her masters at Brock University in St-Catharines, Canada, where she took a more mechanistic approach focusing on chipmunks for the majority of her research. After that, she took a break from school and traveled to Africa to participate in the Meerkat Project research for six months before traveling to South Africa to get her PhD while doing fieldwork in Madagascar. Finally, after much travel, exposure, and education, Levesque moved to Sarawak, in Malaysia Borneo for her post-doc, and it was there that she learned that there was very little data concerning animals in the tropics, and very rarely were these animals considered when scientific determinations were made concerning mammalian exposure and reactions to heat, humidity, and climate change.
When Levesque contemplates the overall picture, what comes to mind is the manner in which people are trying to initiate change under a limited perspective. While any effort to improve the natural world is effort worth recognizing, Levesque realizes that understanding how climate history has shaped different patterns is the key component to triggering change from within.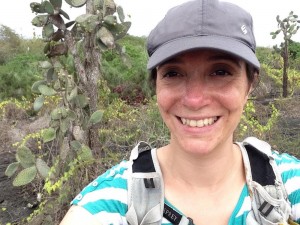 "People are putting together these big, wide-scale models about how animals are going to respond to climate change, and they are doing it based off of data measured from animals in climates like the one in Maine where they have a long history of being exposed to the cold," stated Levesque.  What we need to do in order to understand the bigger picture, she suggests, is recognize that animals with no evolutionary history of cold respond very differently to climate change, thus we cannot make progress in the right direction without taking into consideration the animals outside of the Northern Hemisphere.
"If you look at how anything else in the world works, anything below 10 degrees latitude, that includes the tropics and the southern hemisphere, it is very different" -Levesque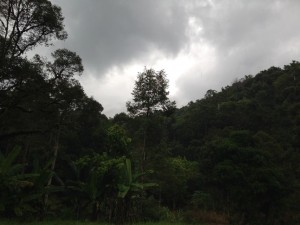 Before, and even during, her time spent in the tropics, Levesque realized that they had no idea how mammals and humidity interacted, which would prove to be an extremely significant factor in the comparison of environments and understanding climate change as a whole. In order to make future predictions for the ranges of species in areas of varying climate and humidity, there must be a broad perspective, and this was a task that Levesque was willing to undertake as the bulk of her work.
Levesque is still taking time to settle in and adjust to the American Educational system here at the University of Maine. While she has taken her first semester to complete the more organizational tasks around her lab and teach her first semester of mammalogy, she plans to start up the research in her lab this coming fall. Using model species on campus, such as squirrels or mice, Levesque and those working in her lab will be testing the basic and fundamental concepts that were looked at very briefly in the 60's but are in need of a fresh perspective and an updated set of details. Likewise to all ever growing scientific fields, in order to continue making advancements, individuals like Levesque must prompt change by applying their unique and knowledgeable experiences to the ideas worth reconsidering.

For more information on Levesque and her research, please feel free to visit her website at: http://borneomammalthermoregulation.weebly.com/danielle-levesque.html
The Ecology and Evolution of Everything: A Discussion Group
This & Every Thursday @ 11:00 – 12:15
in centrally located 
101 Norman Smith Hall
Intended for students, faculty, and staff!

This spring, faculty from Biology & Ecology, Economics, and Wildlife Ecology will again offer a weekly discussion group open to all who are interested.  Largely the group will cover three themes across both non-human and human systems:

1. Ecology
2. Evolution
3. Complex Adaptive Systems

During each meeting, faculty, research staff, or graduate students from any academic unit will either:
A) present unpolished ideas on their research in one of the above themes or 
B) discuss a recent, titillating article (that has broad accessibility) addressing these themes.  
Folks in the past have presented thesis proposals, grant drafts, paper ideas, conference talks, and just plain things they wanted input on.  And we've covered readings concerning the application of theory in diverse circumstances (e.g. conservation biology, health sciences, natural resource extraction, human language, sociology, community engineering).  
We encourage all who are interested from any academic unit to attend.
—————————————————————————————————-

IF YOU'RE A GRAD STUDENT AND NEED A SEMINAR COURSE, YOU CAN TAKE THIS FOR CREDIT (P/F)!
Graduate Students can take this seminar FOR CREDIT by signing up for:
EES 590 – "Special Topic in EES" 
Section 0001
———————————————————————————–
THURSDAY, January 28th, will be the organizational meeting for the entire Seminar, so come to learn more.
SEND QUESTIONS OR COMMENTS TO BRIAN OLSEN, JACQUELYN GILL, HAMISH GREIG, MIKE KINNISON, BRIAN MCGILL, or TIM WARING
Kinnison Featured in UMaine Today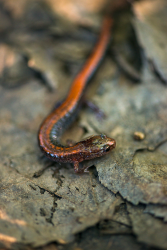 Dr. Michael Kinnison and School of Biology and Ecology graduate student, Nikko Shaidani, are featured in UMaine Today for their work on red-backed salamanders. They discuss how the mainland species came to be abundant residents of almost all the Maine coastal islands and how genetic testing offers clues to their evolutionary history and diversity.
https://umainetoday.umaine.edu/archives/fallwinter-2015/mysterious-islanders/
Gill Featured in UMaine Today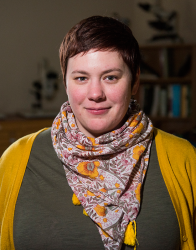 Dr. Jacquelyn Gill talks about climate change, the impact of large mammals on ecosystems, and the de-extinction of the woolly mammoths in this UMaine Today feature.
https://umainetoday.umaine.edu/archives/fallwinter-2015/thinking-big/
Townsend Lab Featured in UMaine Today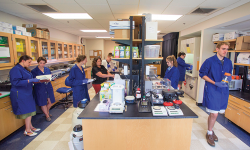 Kristy Townsend's scientific roots reach back to her undergraduate years at the University of Maine.
"Some of the most important and formative scientific experiences in my life were when I was mentored as a young scientist and was able to work alongside faculty on novel research projects," says Townsend, whose undergraduate research included collaboration with UMaine Professor of Psychology Alan Rosenwasser on studies of circadian rhythms.
http://umainetoday.umaine.edu/archives/fallwinter-2015/brain-power/
Holberton's Migratory Bird Research Featured in UMaine Today
Dr. Rebecca Holberton talks about declining migration numbers of songbirds in this UMaine Today article.
Exploring the Mystery of Declining Water Clarity in Acadia National Park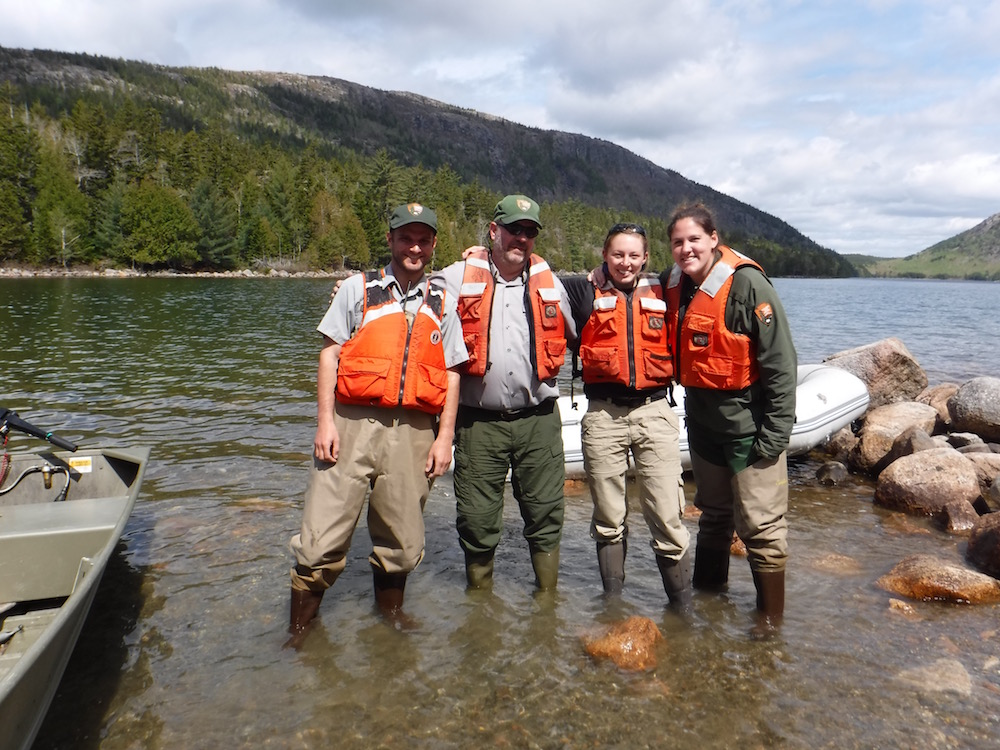 Upon leaving the state of Maine to obtain her undergraduate degree from Franklin and Marshall College in Lancaster, PA, Nora Theodore knew that one day she would be coming back. There was a certain state pride ingrained into her while growing up in the "bubble" of Maine, and the thought of making a difference in the state she had grown up in while remaining in the same field of research was simply compelling. It was not long before Theodore was in contact with Jasmine Saros, her current advisor, and began the process of undergoing her project in Acadia National Park, where she would be "analyzing high-frequency data to understand the drivers of declining water clarity in Jordan Pond," as a graduate student at the University of Maine.
If an individual were to walk into Acadia National Park on any given day, they may notice that the water is not as transparent as it used to be. Dissolved organic matter is causing a decline in clarity, resulting in ecosystems that are responding depending upon the varying causation factors. In order to detect how the lake is responding, there must be a determination of these many and varying factors. For one, we must know how the thermal structure is changing and how temperature changes with depth. With this information, we will be able to determine how it influences the different types and amounts of algae in the lake as an entire ecosystem, depending on the various optical changes seen. As a result, there must be fairly constant analyzation.
The mission of Friends of Acadia, as it says on their website, is to "preserve, protect, and promote stewardship of the outstanding natural beauty, ecological vitality, and distinctive cultural resources of Acadia National Park," which quickly became a mutual understanding and goal between Theodore and the park.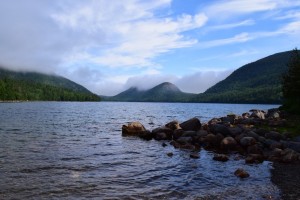 When Theodore first began exploring the idea of obtaining her master's degree from the University of Maine, a neat collaboration between Friends of Acadia, the Acadia National Park Service, and the Climate Change Institute on campus is what initially caught her attention.
"The common person can be aware of the importance of lake clarity for the sake of water quality, because clearer water equals cleaner water. Besides that, there are also public health implications, which they should remain aware of and educated on in order to understand the implications," said Theodore.
When discussing the importance of collaborations, she went on to say that "the government created the clean air and clean water act to prevent acid deposition", thus their cooperation with the common people is what compels the public to take action and collaborate with the government and the professionals as a whole.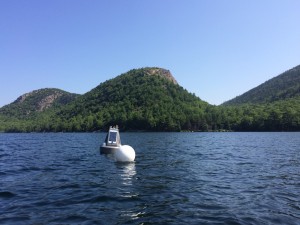 Furthermore, Theodore emphasizes the importance of collaboration, and discussed her facilitation of the partnership between the University of Maine Climate Change Institute, Friends of Acadia non-profit organization, and the Acadia National Park Service. These organizations work together in the deploying, maintaining, and calibrating a NexSens CB-400S water-quality monitoring buoy in Jordan Pond, which gathers all of the data daily for the project. As means of conducting her own public outreach, Theodore, those working on the project with her, and the communication folks at UMaine, all collaborated to get the word out about the project through a digital display at the pond house. This pond, among all of Acadia, is a "hot spot" for tourism, and as a result, Theodore and her team had to strive to blend in their scientific work with the natural world in which they were exploring. To do so, they camouflaged the buoy in gray paint, among other colors, in order to have it resemble a seagull and integrate freely with the environment.
Of the many factors that could have an influence on lake composition, Theodore focuses on specifically two for her thesis: the changes in acid deposition, and the different climatic variables. In order to analyze this high-frequency data, there must be a pretty constant flow of information to Theodore daily, which is why the data is logged at the park and is received at her desk every fifteen minutes or so, allowing for consistent evaluation to be made. This includes a count on temperature, algae, chlorophyll, conductivity, pH, and dissolved oxygen trends.  Amidst all of this data, Theodore said that rain has proven to be a leading factor of importance, as it is monitored with a sensor on the buoy and provides critical information concerning water treatment among many other important in-lake biological implications.
By having access to this influx of information at all times throughout the day, Theodore is given the ability to interpret and "understand the ways that our natural resources are changing,"
There are many directions in which Theodore may find herself through the journey of her project, but as of now she is becoming well acquainted with the significance of a communal facet and the power of outreach in the surrounding communities.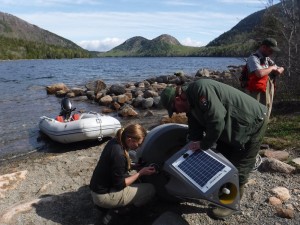 An important aspect of her work, and one that she enjoys telling others, is that it can be used as a good example of a successful piece of environmental legislation. While the hard science itself is extremely significant for obvious reasons, public outreach and education, surrounding not only this project but all of science, plays a meaningful role in creating change that will be spread and shared throughout masses of people. As Theodore continually expressed, no matter what degree the implication of the work is, if the overall message cannot be relayed to the public, there is no driving force of change.
While the future is unknown, Theodore plans to defend her thesis in either April or May, and then to continue pursuing a balance of both the science and social side of her work. Having spent the last two years focusing on hard sciences, Theodore anticipates the forthcoming of her further involvement in public interfacing and outreach through policy based work in order to inspire action, promote change, and remain active in the science that influences the surrounding world.
Discovering a Love for Bumblebees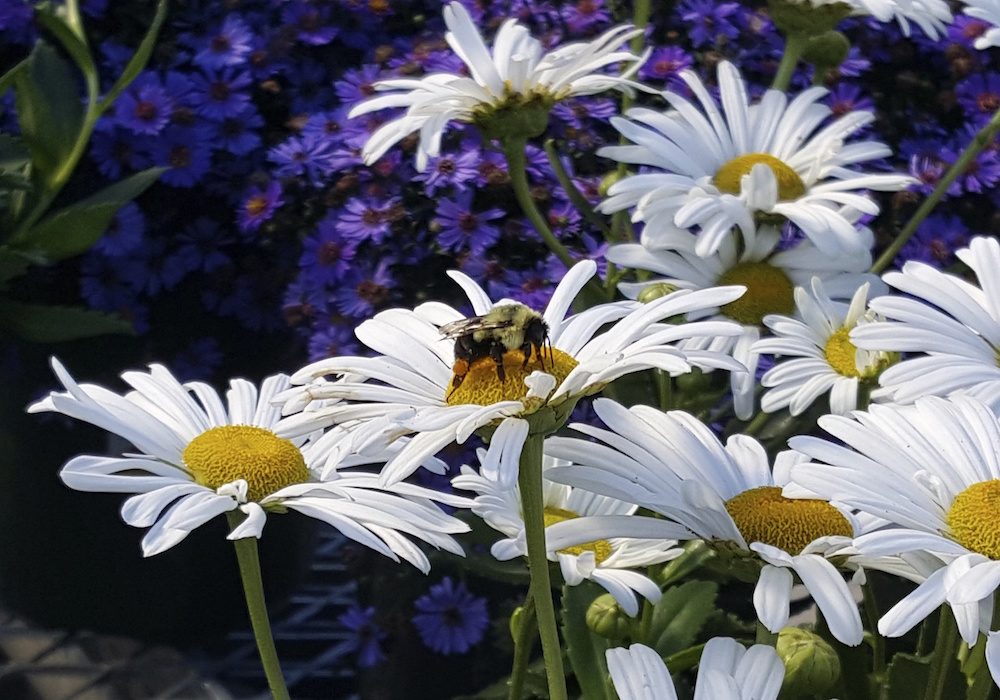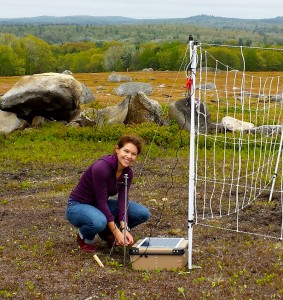 In the spring of 2012, after obtaining her undergraduate degree in biology from Bowdoin College and her Master's Degree from Columbia University working with sea turtles, Kalyn Bickerman-Martens sought out a new adventure in order to earn her PhD. Having no prior experience working with insects at all, let alone bumblebees, Bickerman-Martens accepted a fellowship from the University of Maine, where she would be conducting research and looking at the health of Maine's native bumblebee species, specifically in blueberry fields.
Historically, Maine has 17 native bumblebee species. While some of these species are doing really well and increasing in relative abundance, there is a fair number of species that are consistently declining and rapidly disappearing from our environment. Of the 17 native species, the yellow banded bumblebee (Bombus terricola) and the rusty patched bumblebee (Bombus affinis) are the two best known examples of declining species in Maine as of right now.
While there could be a number of reasons as to why the state of Maine is losing these little creatures that are such vital parts of our ecosystem, Bickerman-Martens has chosen to focus on three: parasites, pathogens, and pesticides and their possible role in the decline of some bumblebee species.
A typical day in the lab finds Bickerman opening up a dead bee to look for conopid: a bumblebee fly parasitoid. 70% of the bees they catch in the wild are infected with a fly parasitoid, which has proven to be more common during certain times of the year than others. The typical lifespan of a bumblebee in the wild is only about 2-3 weeks, therefore the conopid does not have a major effect on the bee's lifespan, but they do harm the individual bees and their colonies in other, less obvious ways.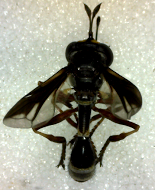 When a bumblebee is infected with this fly parasitoid, they become lethargic, slow, and lose their keen abilities for identifying flowers. As a result they are often found wandering outside of their hive at night, either because they feel sick, are lost, or have been expelled. Furthermore, as part of the pollination process, the bumblebees fill a crop sitting in their abdomen with nectar to bring back for the colony, but if there is a larvae growing and pressing against the crop, they cannot fill it, and thus become inefficient.
When the conopid is about to pupate and emerge from the bee, the bumble bee can be found crawling around aimlessly on the ground. As Bickerman-Martens made clear, this parasite and the corresponding behaviors could potentially be affecting on the reproduction rates of the colonies. In the end the fitness of a colony is measured by how many queens they produced, and if the number is declining, the health of the colony is rapidly diminishing as well.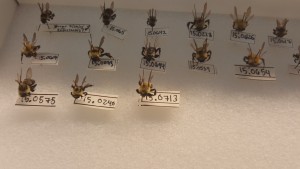 Of the many experiments organized to assist in the research and exploration of bumblebees, one sticks out to Bickerman-Martens as a very memorable experiment, and she conducted it last year on the conopid flies. While mentoring a high school student who has been working with her for a few years, and after reading a paper written in Virginia about determining the exact identification of the fly parasitoid, the two of them conducted an experiment that consisted of letting bees die naturally and recording whether or not they were more likely to die above or below the soil during the process. The thinking was that this might indicate whether they were infected with the conopid or not. Bickerman-Martens and her student discovered that it was indeed more likely for bees infected by the parasitoid to dig themselves a hole than the uninfected bees, as they are accustomed to doing for increasing their chances of survival in the winter. After the bees had died, they opened them up to look for fly pupae inside and hoped to aid in the identification of the fly by rearing the pupa to adult.
As another grand part of the ongoing and variable project, Bickerman-Martens has been working with the Maine Bumble Bee Atlas and Maine Fisheries and Wildlife in order to train citizen scientists who will go out into the field to collect bumblebees through the season and throughout the state. By gathering a very large sample size and then observing and recording where these different species are located, they are able to determine preferable habitats, geographic locations, and how these factors affect general health and life expectancy, thus providing further insight on the problematic decline.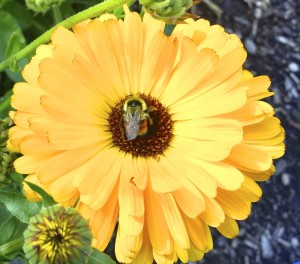 Although bumblebees are fairly small creatures, there are still quite a few distinctive features that allow for their identification. The abdomen on the dorsal side of the bee is divided into strips, which can be distinctively colored, however bumblebees are variable in color and often even look different from their colony mates in terms of color. Some more reliable methods might include: observing the length of the face, location of ocelli on the face, and the color of the hair on the face and on the thorax in between the wings under the microscope. Either way, identification is sometimes a tedious undergoing and requires quite a bit of practice and skillful observation. Often you really only have the colors to go by and the general size of the insect in order to identify it.
Bickerman-Martens does not know for sure when she will have completed her work here at the University of Maine, but she does know that the presence of bumblebees in our ecosystem is vital. Without bumblebees, we will lose our critical native pollinators and be unable to ensure that the pollination of crop plants takes place. Through outreach, continuous experimentation, and passionate dedication, the project will continue to make great advances in the years to come.
UMaine graduate student finds after last mass extinction, tiny fish ruled the sea
Orono, Maine — Andrew Galimberti, an entomology graduate student at the University of Maine, was part of a research team that discovered that bigger isn't necessarily better for a fish during an extinction event.
Researchers from the University of Pennsylvania and UMaine found that for at least 40 million years following the last massive extinction, small, fast-reproducing fish may have dominated the planet's oceans.
Approximately 359 million years ago, a bio-event referred to as Hangenberg, triggered a drastic and lasting transformation of Earth's vertebrate community.
The event occurred during the late Devonian period — 416 million to 358 million years ago — and was characterized by high fish diversity, including some massive fish reaching 8 meters in length.
During this period, major climatic and ecological changes occurred, such as glacial events, sea level decreases and ecological invasions, which ultimately resulted in a major extinction event.
Recent evidence has shown that the Hangenberg event profoundly altered the course of vertebrate evolution, wiping out taxa that were dominant in the Devonian era. These findings, published in Science, could have implications for modern species today.
"Some large species hung on, but most eventually died out," says Lauren Sallan, UPenn assistant professor of Earth and environmental science and lead author on the study.
Sallan and Galimberti were interested in the trends which characterized body size evolution in the Devonian, and how the Hangenberg event changed these trends.
"So the end result is an ocean in which most sharks are less than a meter and most fishes and tetrapods are less than 10 centimeters, which is extremely tiny. Yet these are the ancestors of everything that dominates from then on, including humans."
One hypothesis the researchers explored for post-extinction size change is the "Lilliput effect" – the tendency for sizes to briefly decrease following an extinction event, then recover to normal. However, Galimberti noted, evidence for the Lilliput effect is limited, especially for vertebrates.
For the project, Galimberti and Sallan assembled a dataset of body sizes for 1,120 species of fish fossils spanning from 419 to 323 million years ago. The researchers gathered the body-size information from published papers, museum specimens, photographs and from incomplete fossils for which they could extrapolate a full size.
They performed a series of analyses to determine how body sizes changed throughout the Devonian and how the end-Devonian mass extinction affected these patterns.
The researchers found that after a period of steadily increasing body sizes throughout the Devonian, small fish, as the Lilliput effect suggests, dominated the early Mississippian, says Galimberti. However, recovery of large sizes did not occur in the Mississippian — sizes remained small or, in some cases, decreased throughout for at least 40 million years.
By the end of the Devonian, some fish were as large as school buses, says Sallan. "You had some vertebrates that are small, but the majority of residents in ecosystems, from bottom dweller to apex predator, were a meter or more long."
"These large fish, though, were "dead clades walking" — clades that would fail to diversify and eventually become extinct, in contrast to the smaller survivors which continued to diversify throughout the Mississippian and beyond," said Galimberti.
This suggests that, even if a large organism is able to survive an extinction event, it may remain vulnerable to extinction, he says.
Generally, larger organisms tend to be more prone to extinction due to greater energy requirements, and production of fewer offspring which results in smaller population sizes. These factors make large organisms less likely to adapt to drastic changes in the environment.
"Conversely, small organisms have large populations and high reproductive ability, increasing their chance at survival and their ability to adapt," said Galimberti.
"As extinctions continue, we may see similar patterns to those after the Hangenberg — more small species, drastic diversity changes, and a long period of time before ecosystems stabilize and recover," says Galimberti. "Future research should determine how widespread these patterns are, both in the fossil record and today," says Galimberti.
Today, human-driven environmental changes have led to great losses in many fish and other animals, especially large ones. With many global fish populations in danger and with some ecologists concerned the planet is on the brink of a sixth major extinction event, this time caused by humans, Sallan warns that these results should raise a red flag about how long large species might take to recover.
"These disturbances are shifting natural selection so that smaller, faster-reproducing fish are more likely to keep going, and it could take a really long time to get those bigger fish back in any sizable way," says Sallan.
The University of Pennsylvania, Kalamazoo College, the University of Michigan and the Michigan Society of Fellows supported the study.
University of Pennsylvania's full press release is available online.
To protect ecosystems, Gill says start with largest inhabitants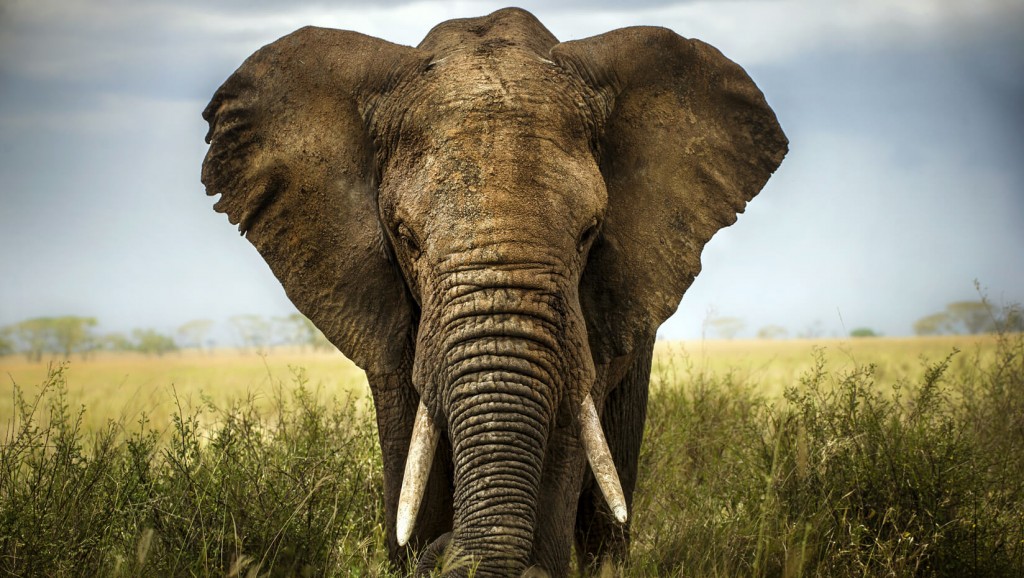 The extinction of mammoths, ground sloths and other large plant-eaters thousands of years ago triggered shifts in global habitats and changes in ecosystems, says University of Maine paleoecologist Jacquelyn Gill.
The assistant professor in the School of Biology and Ecology and the Climate Change Institute says fossils and other records from the deep past provide evidence of widespread short- and long-term changes in community composition, structure and function after large herbivores went extinct.
Essentially, she says, extinctions are records of completed grand natural removal experiments. And the records indicate long-term changes after megafauna extinctions included reduced seed dispersal, which continues to influence plant species, as well as an increase in fires.
"At the end of the last Ice Age, we lost half of the large mammals in North America larger than a German Shepherd, and the forests and grasslands they inhabited noticed the difference," Gill says.
"Large herbivores, from mammoths to elephants, play special keystone roles in ecosystems; when we lose them, we lose all the services they provide, from spreading nutrients to creating patches where many different plants can thrive."
It's important to understand large herbivores' contributions to ecosystems, Gill says.
Today's large plant-eaters, including elephants and rhinos, influence the abundance of woody species, as well as impact plant diversity, nutrient cycling and other animals. They also are among the most threatened species on the planet due to reduced habitat, climate change and hunting.
"There's evidence from modern studies that healthy populations of native large herbivores increase plant biodiversity, and may even help ecosystems be more resilient to climate change," Gill says.
"If you want to protect an entire ecosystem, start with protecting its largest inhabitants."
Gill is part of an international team that authored "Combining paleo-data and modern exclosure experiments to assess the impact of megafauna extinctions on woody vegetation." It is featured in the Oct. 26 edition of the Proceedings of the National Academy of Sciences of the United States of America.
Elisabeth S. Bakker of the Netherlands Institute of Ecology is lead author of the study.
Other participating researchers are: Christopher N. Johnson of the University of Tasmania in Australia; Frans W. M. Vera, of the University of Groningen in The Netherlands; Christopher J. Sandom of Oxford University in the United Kingdom; Gregory P. Asner of Carnegie Institution for Science in California and Jens-Christian Svenning of Aarhus University in Denmark.
Contact: Amanda Clark, 207.581.3721, Beth Staples, 207.581.3777
Female invaders are ecologically stronger than males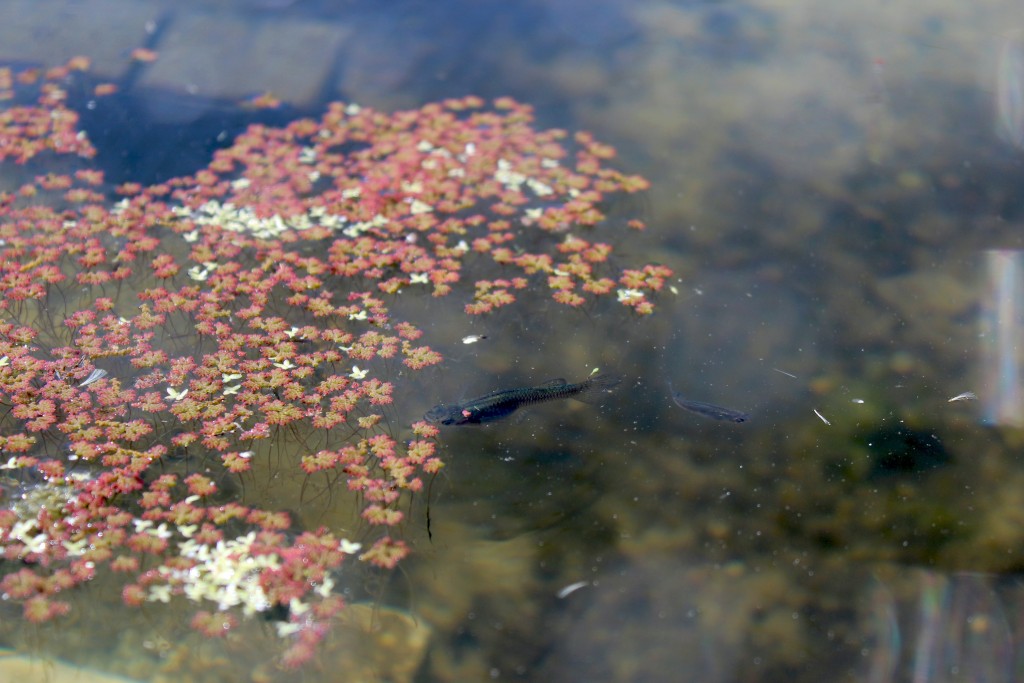 ORONO, Maine — Males and females of many different species are often visibly different from one another. Scientists call these differences 'sexual dimorphism' and it has been studied extensively by evolutionary biologists all of the way back to Charles Darwin.
But what is not yet clearly understood is how these differences impact an entire ecosystem.
Researchers at the University of Maine and University of California at Santa Cruz recently published a paper suggesting that sexual dimorphism and the ratio of females to males in populations of western mosquitofish can shape the ecological impacts the invasive fish has on an ecosystem.
The researchers found that female-dominated populations of mosquitofish have a greater ecological impact compared to males.
Western mosquitofish, originally from North America, have been widely introduced around the world to control mosquitos that spread diseases such as West Nile Virus and malaria.
But their wide introduction created unintended consequences for native biodiversity and changes in pond ecosystems, resulting in the species being listed among the world's 100 worst invasive species by the International Union for Conservation of Nature.
"Mosquitofish are known to have detrimental effects on native freshwater fauna, and in a lot of places there are efforts to control and extirpate them," Eric Palkovacs, assistant professor of ecology and evolutionary biology at the UC Santa Cruz, said. "It's been called the 'plague minnow' in Australia and New Zealand because its effects are so drastic."
In their experiments, the researchers varied the ratios of mosquitofish sexes introduced into experimental pond ecosystems and compared them to ponds without the invasive fish. The experimental pond ecosystems contained sediments, algae, zooplankton and other naturally colonizing invertebrates and amphibians.
"One of the interesting population patterns that we see in mosquitofish is just how different populations can be in their proportions of males and females," Michael Kinnison, professor of evolutionary biology at the UMaine, said. "We have been frustrated on more than a few occasions by how challenging it can be to capture one sex when you already have buckets of the other."
This variation in sex ratios is likely caused by differences in size, behavior, longevity and preferences of predators like birds and other fish, explains Kinnison.
The scientists found that female-dominated populations changed their pond communities more than male-dominated populations, resulting in stronger 'trophic cascades'.
Trophic cascades are changes in communities that occur when predators, like mosquitofish, reduce the abundances of their prey, leading to increased abundances of those prey's prey, producing a flip-flopping effects down the food chain.
"We knew from past work that mosquitofish introductions produce trophic cascades all of the way down to the algae at the base of the food chain," said Kinnison. "What was surprising, is that female-biased populations significantly magnified essentially all of those cascading effects."
The researchers found that populations with more females exacerbated cascade effects on everything from zooplankton and algae to temperatures and pH (a measure of water acidity).
The authors of the study indicated this pattern is consistent with some of the known differences between female and male mosquitofish. Female mosquitofish are larger and prefer larger prey, have higher feeding rates and spend more time foraging in the presence of other females when males instead devote more time to finding mates.
The findings from this study have both general and applied implications, says Kinnison.
Sexual dimorphism and sex ratio variation are very common in fishes and other taxa, so this work could provide encouragement to consider the ecological consequences of these patterns in many other species.
From an applied standpoint, says Kinnison, the approaches used to control mosquitofish and other invasive species — such as trapping or introductions of sterile males to reduce fertile matings — can inadvertently shift sex ratios and in doing so alleviate or intensify the ecological effects of such invaders.
Understanding the population biology and ecological effects of such invaders is imperative to predicting their impacts and managing them. Not all populations of invaders are equally harmful, so finding out what makes some worse than others is important.
The experiments for this study were conducted at UCSC's Long Marine Laboratory with mosquitofish collected from a California mosquito vector control district.
The paper, titled "Sex ratio shapes the ecological effects of a globally introduced freshwater fish," was published October 21 in Proceedings of the Royal Society B.
Other authors included Heather Arnett, graduate student at UMaine, and David Fryxell and Travis Apgar, graduate students at UC Santa Cruz. The research was funded by the National Science Foundation, UC Santa Cruz and the Maine Agricultural and Forest Experiment Station.
Photo credit: 
Dave Fryxell, UC Santa Cruz