Gill to speak at the upcoming Women Leadership in Science, Technology, and Engineering conference
Dr. Jacquelyn Gill will be speaking at the upcoming Women Leadership in Science, Technology, and Engineering conference, held in Kuwait in two weeks. This is a joint effort by the Kuwait Foundation for the Advancement of Science, AAAS, and the US Department of State. The theme of the conference, targeted at GCC nations, is "Science Empowers Women." She will be presenting in an Early Career Innovation session. More details are available at http://wlste.org/WomenConference.
Jeff Hall receives Nobel Prize in Physiology or Medicine
The Nobel Assembly at Karolinska Institutet awarded the 2017 Nobel Prize in Physiology or Medicine jointly to Jeffrey C. Hall, Michael Rosbash and Michael W. Young for their discoveries of molecular mechanisms controlling the circadian rhythm. Dr. Jeff Hall was an adjunct faculty member at the School of Biology and Ecology in 2005-2012. His primary academic affiliation was with Brandeis University. However, Jeff was also appointed a Libra Professor at UMaine in 2008-09, during which he taught BIO 462, Principles of Genetics. He also co-taught BIO 591, Neurogenetics, with Dusty Dowse.
Longcore wins the Golden Goose Award
Dr. Joyce Longcore won the 2017 Golden Goose Award. This is a very prestigious award that recognizes the tremendous human and economic benefits of federally funded research by highlighting examples of seemingly obscure studies that have led to major breakthroughs and resulted in significant societal impact. The award was originally envisioned by Representative Jim Cooper of Tennessee and is co-sponsored by American Association for the Advancement of Science, Association of American Universities, Association of Public and Land-grant Universities, Breakthrough Institute, Elsevier, Progressive Policy Institute, Richard Lounsbery Foundation, The Science Coalition, Task Force on American Innovation, United for Medical Research, University of Pennsylvania, and Vanderbilt University.
The Golden Goose Award has strong bipartisan support, and winners are honored every year at an award ceremony in Washington, D.C., where Members of Congress of both parties speak to the importance of the award and of federal funding of scientific research. You can watch the award ceremony at https://www.goldengooseaward.org/. Additional details are also available in UMaine News Release, and in an article published by Bangor Daily News.
Henry, Townsend, and collaborators receive an NSF MRI grant
The University of Maine was awarded $497,000 by the National Science Foundation Major Research Instrumentation Program to acquire a Leica TCS SP8 Digital LightSheet microscope. The PIs are Clarissa Henry, Rob Wheeler, Kristy Townsend, Leif Oxburgh, and Andre Khalil. LightSheet microscope is superior for imaging living organisms because the low light illumination and high-speed image acquisition facilitate long-term live imaging. LightSheet microscopy also illuminates specimens from both sides which allows visualization and rendering of larger samples. This Leica TCS SP8 also includes a White Light Laser with a nuning range of 470-670nm at 1nm increments and allows for 8 excitation wavelengths to be used simultaneously. This microscope will be used to study neuromusculoskeletal development and disease, kidney development and disease, mechanisms of host-pathogen interactions in vivo, and adipose tissue innervation.
Carter and Kilroy win GSBSE awards
Erin Carter won the Graduate School of Biomedical Science and Engineering (GSBSE) service award and 3rd Place, Governor John E Baldacci Award for Best Oral Presentation. Elisabeth Kilroy won 3rd place, Poster competition, and Best photo in the photo competition. All awards were presented at the 2017 GSBSE annual meeting.
Former student dedicates book to Vadas
Dr. John H. Andrews, Professor Emeritus at the University of Wisconsin-Madison and Fellow of the American Phytopathological Society, dedicated the second edition of his book Comparative Ecology of Microorganisms and Macroorganisms to Bob Vadas. Dr. Andrews took Bob's classes in Ecology and Marine Phycology in 1967 and 1968. Both subjects became pivotal, lasting influences in his life and career. He also found his interactions with Bob to be truly inspirational, which ultimately led to the dedication of this book. The 349-page volume was just published by Springer.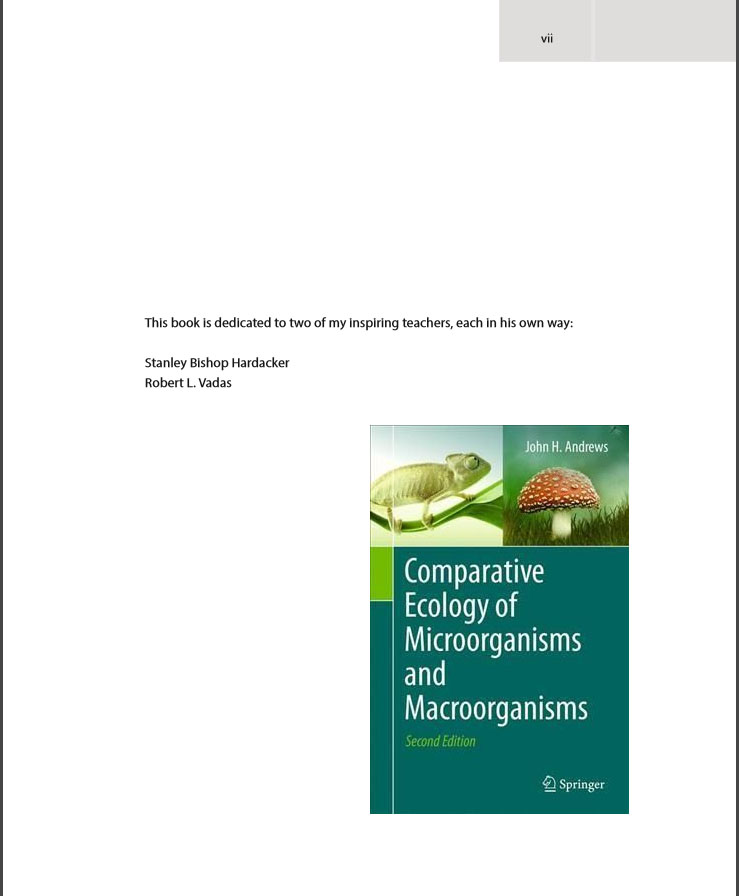 Grove' receives inaugural Hodosh Fellowship
Venessa Grove', a Master's student in Dr. John Zhang's laboratory, was awarded the inaugural Ellen Keough Hodosh, PhD, Graduate Fellowship. The fellowship was established in 2016 in the University of Maine Foundation for the benefit of the University of Maine, Orono, Maine, with a gift from Ralph J. Hodosh in loving memory of his wife, Ellen Keough Hodosh. Ralph and Ellen were first generation college students, met at the University of Maine and earned their doctorates in Zoology in 1978. The primary mission of this Fellowship is to foster collaboration between graduate students in School of Biology and Ecology at the University of Maine and scientists in Israel.
Venessa will use her award to spend the summer of 2018 at Gilat Research Center and the Ben-Gurion University of Negev, Israel, studying stomatal regulation  in plants as related to carbon dynamics and stem/leaf water potential and conductance. She will be hosted by Dr. Or Sperling, who will also serve as co-advisor for her thesis. Results of her research will facilitate the development of agricultural management techniques for improving crop productivity and water use efficiency. Such techniques are likely to benefit Maine wild blueberry industry.
SBE Annual Fall Gathering
It's that time of year again!  We have picked the date for our School of Biology & Ecology Annual Fall Gathering to be held in Murray Hall& the Littlefield (Ornamental) Gardens.
Please mark your calendars for Friday, September 01, 2017. 
We will start in Room 102 Murray Hall at 3pm for introductions.
Around 5pm we will proceed to Littlefield (Ornamental) Gardens next to the University Credit Union for our cookout which includes hamburgers, veggie burgers, hot dogs and an assortment of pot luck dishes.  We will have a bartender serving beer as well.  In case of inclement weather, we will gather in the Murray Hall lobby and hallway.
We ask that the faculty invite their professional employees and grad students so they can be introduced to the entire SBE group at the same time. If you are unable to attend please let Andrei know so he can introduce your group of students.
Please bring your own chair (byoc).  We will have food tables set up in the garden.  Please also note that dogs are not allowed in the Gardens unless it is a service dog.
Hope to see you there!
Alyokhin receives Communication Award from The National Association of County Agricultural Agents
Dr. Andrei Alyokhin, Professor of Entomology and Director of School of Biology and Ecology, received Communication Award from The National Association of County Agricultural Agents. The award was given for developing a learning module entitled Unifying Resistance Management Education.
Smith's project will connect college, high school instructors to improve success of STEM students
Dr. Michelle Smith, who holds a C. Ann Merrifield Professorship in Life Science Education in the School of Biology and Ecology, will spearhead a project to improve first-year students' transition from high school classes to college courses in the same subjects. Nation-wide data indicate that less than 50% of first-year undergraduates who start in science, technology, engineering and mathematics (STEM ) fields have graduated with a degree in one those areas six years later. Most of the attrition occurs between the first and second year of college. The project, funded by the National Science Foundation, aims to connect college and high school instructors together to bridge the gap between the different classroom environments and design materials to help students with the instructional transition. More information is available in the University of Maine press release.
Research at Groden's laboratory targets browntail moth infestations
Text below is an excerpt from UMaine News Update.
The browntail moth is an invasive species that was introduced into northeastern North America in the late 1800s. In the past several years, the population and range of the browntail moth has grown significantly, with more than 24,000 acres in Maine defoliated by their caterpillars in 2005. In addition to tree damage, the small toxic, barbed hairs on the caterpillar's body present a serious concern for public health. The tiny hairs can induce painful poison ivy-like rashes and serious respiratory distress in those who come into contact with them. The irritating urticating hairs detach from the growing caterpillars and become airborne as they molt, settling on line-drying clothing, backyard picnic tables and patio furniture, and the ground surrounding the infested trees. Once in the environment, the hairs can retain their toxicity for three years.
Dr. Eleanor Groden, a professor of entomology in the School of Biology and Ecology at the University of Maine, focuses her research on understanding the natural enemies of the browntail moth — the various parasitoids, fungi and viruses that target the caterpillars, and may be used to help curb the rapidly expanding moth populations affecting Maine's communities. UMaine's research is part of a larger initiative, one in collaboration with Charlene Donahue, an entomologist with the Maine Forest Service, as well as a growing network of concerned citizen groups who seek to monitor and identify new infestations and develop pest management strategies in areas experiencing an outbreak.
UMaine researchers develop wild bee habitat assessment tool
University of Maine researchers, including doctoral student Brianne Du Clos and her advisor Dr. Frank Drummond, have developed a tool called "BeeMapper" that will allow blueberry growers to assess the predicted wild bee abundance in the landscape surrounding their crop fields. Knowing the numbers and types of wild bees in the surrounding landscape will help growers budget how many honeybee hives to rent and help determine if they could take more action to enhance wild pollinator populations on their fields. Full story is available at the UMaine News Update website.
Trenkmann and Smith appear on Channel 5 News
Elisabeth "Betsy" Trenkmann, Michelle Smith, the Master of Science Teaching program, Orono High School, and Murray Hall were all featured in this Channel 5 News piece
http://wabi.tv/2017/05/09/ahead-of-umaine-graduation-future-teacher-stands-out-among-peers/
For more information, please refer to the University of Maine press release:
https://umaine.edu/news/blog/2017/05/10/elizabeth-trenckmann-seeking-inspire-high-schoolers/
2017 SBE Student awards, prizes, and scholarships
SBE Academic Awards
Highest GPA in a major within the School
First Year
Bailey Carter
Ryan M. LaGross
Hilary A. Merrifield
Sophomore
Emily R. Gagne
Emma R. Garner
Lucia D. Guarnieri
Junior
Tyler J. Lang
Jacqueline R. Lambert
Callie W. Greco
Senior
Willow S. Bates
Kaitlin E. Clark
School of Biology & Ecology Academic Achievement Award
Awarded to the graduating senior having the highest GPA
Sigrid Koizar
Richard C. Wadsworth Annual Memorial Prize
Awarded to the highest-ranking junior or senior enrolled in the MLS program
Innocent I. Okolocha
Dahl-Chase Pathology Associates Medical Technology Scholarship
Awarded to an outstanding MLS student who attended a Maine High School
Breana R. Riquier
Frank H. Lathrop Scholarship
Awarded to high-achieving juniors and continuing seniors who are Maine residents majoring in Biological Sciences
Callie W. Greco
Wayland A. Shands Scholarship Fund
Awarded to a student of Entomology with high academic standing
William R. Aman
Auburn E. and Lurana C. Brower Scholarship
Awarded to an outstanding junior with an interest in Entomology
Lucia D. Guarnieri
Fay Hyland-Hilborn Prize in Plant Biology
Kathryn M. Miller
Graduate Prize in Animal Biology
Jared J. Homola
Edith M. Patch – Frank H. Lathrop Prize in Entomology
Brianne E. Du Clos
Outstanding Teaching Assistant Award
Andrew B. Wilson
SBE Graduate Student Travel Award
Zachary T. Wood
Dulcinea Groff
Trenckmann wins two top awards at the University of Maine Student Symposium
Betsy Trenckmann, a graduate student advised by Dr. Michelle Smith, won both the best presentation in the education category, as well as the Presidential Research Impact Award! The Research Impact award is given to both the graduate student and his/her advisor in recognition of research that has a potentially significant impact to the people of Maine, and that exemplifies the University's tri-partite mission of teaching, research and public service.
Betsy's presentation, entitled "Collaborating Across the University of Maine System to Improve Student Understanding of the Role of Energy and Matter in Photosynthesis," was co-authored with Erin Vinson, Karen Pelletreau, Kimberly Borges-Therien, Farahad Dastoor, Jason Johnston, Eric Jones, Peter Nelson, Jenn Page, Nancy Prentiss, Judith Roe, Joseph Staples, and Michelle Smith. The presentation described developing a student-centered in-class activity and common assessment questions to help students learn about matter and energy, and to explore how and why increased carbon dioxide would impact certain industries. The activity was put together by life science faculty from six University of Maine System campuses and their industry partner, Hurricane Island Center for Science and Leadership. It was taught in 13 classrooms throughout the University of Maine System, and student learning and faculty observation data were used to iteratively revise the instructional materials. Data were collected on how the activity improved student learning and how combining the expertise of University of Maine System faculty throughout the state and the Hurricane Island Center for Science and Leadership provided the opportunity to integrate biological concepts with economic development.
Kinnison's research discussed in the cover story of The Scientist magazine
May 2017 issue of The Scientist magazine contains a cover story by Jef Akst entitled "Evolution's Quick Pace Affects Ecosystem Dynamics." The article discusses in great detail research on contemporary evolution conducted in Dr. Michael Kinnison's laboratory.
Elizabeth Kilroy receives NSF Graduate Research Fellowship
Elizabeth Kilroy received a prestigious Graduate Research Fellowship from the National Science Foundation. She is working in Clarissa Henry's lab on developing effective therapies for muscular dystrophy. Full story is available on the University of Maine website.
Amanda Klemmer Featured in The Bulletin of the Ecological Society of America
Amanda Klemmer is featured as an arising new researcher in an open-access article entitled Breaking Through Ecosystem Boundaries published by The Bulletin of the Ecological Society of America.
Kristy Townsend Featured on the You're the Expert Show
Dr. Kristy Townsend will be the featured scientist at the You're the Expert event, headlining the Maine Science Festival on Saturday, March 18. This is a national public radio show and podcast out of Boston/Cambridge, featuring three comedians questioning a scientist. Tickets are available for purchase.
Elizabeth Kilroy investigates causes of muscle dystrophy
Elizabeth Kilroy is a second-year doctoral student in the University of Maine Graduate School of Biomedical Science and Engineering (GSBSE) working under the guidance of Dr. Clarissa Henry. She is investigating genetics of muscular dystrophy, which is a group of genetic disorders that can cause progressive muscle weakness and wasting. Kilroy's close family members are affected by this disease, and she hopes that her investigations will help discovering the cure.