First-year students take the classroom to Acadia National Park
First-year Biology, Ecology, Zoology, and Clinical Laboratory Science
majors started their college careers a little early this year.  Not in a classroom…but at the Schoodic Education and Research Center (SERC) nestled on the coast of Acadia National Park.  SERC is an independent nonprofit organization created to foster greater understanding and respect for nature by facilitating research and learning opportunities for the community.
The Schoodic Experience is a three-day trip offered to incoming SBE students in fulfillment of the biological science orientation course, NFA 117. But as the students witnessed, the trip provided more than just credits towards their majors; it provided a head start to the transition to college.  Students had the opportunity to explore their majors in an out of classroom experience, where they were able to meet their professors, fellow peers, and graduate student before classes even begin.
"The goal of the trip is to create a community of SBE majors so that they might have a support network as soon as they start on campus," said Farahad Dastoor, the organizer of the trip as well as the Professor of Biology. "The idea being that the more comfortable they felt and the more resources they were aware of, the easier the transition to UMaine would be."  And for many students, the trip did precisely that.
"I would absolutely recommend this trip to incoming freshman in the department," said Caroline Spangenberg, a first year Zoology major.  "My favorite part about the Schoodic Experience was being able to meet students my age who are entering similar majors…A few of them that I met on the trip have become my closest friends here on campus, and I am very grateful to have been given the opportunity to create relationships with them."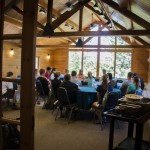 Students had the choice of a variety of field excursions throughout the trip.  Excursions were led by SBE faculty members and included the following topics: Aquatic Insects of Schoodic, Marine Algae of Schoodic, Plants of Coastal Maine, Ecological Changes from the Ocean to the Land, and Reading the landscape: How the Past Shapes the Ecology of the Present. During down time, students had the opportunity to play sports, participate in activities and games, and enjoy evening movies.  Students had the opportunity to meet with their academic advisor, which helps students acclimate to the academic environment, and begin planning for their futures.