Wood Named A UMaine 2016 Outstanding Graduating Student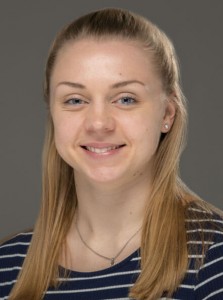 School of Biology and Ecology student, Elizabeth Wood of Catlett, Virginia, has been named the Outstanding Graduating Student in the College of Natural Sciences, Forestry, and Agriculture at the University of Maine.
Wood is an honors student majoring in biology with a pre-med concentration, and a minor in chemistry. She is a member of UMaine's women's basketball team, serving as captain for the past two seasons.
Her numerous academic and athletic awards include the America East Elite 18 Award, America East Female Scholar-Athlete of the Year and 2015 Dean Smith Award.
The summer after her sophomore year, Wood participated in a NASA-funded cancer biology internship project at Colorado State University. At UMaine, her honors research focused on prevention of Type 2 diabetes, exploring nerve function, calories, energy expenditure and fat storage. The title of her thesis: "Novel Role of Neurotrophic Factor in White Adipose Tissue."
Wood has served as president of the UMaine Student-Athlete Advisory Committee and the America East Conference representative on the Division I Student-Athlete Advisory Committee.
She plans to pursue a professional basketball career, followed by medical school.
A profile about Wood's UMaine student experience is online.
Wood is one of eleven undergraduate students to receive this recognition at the University of Maine. Read about the other 2016 Outstanding Graduating Students here.