Frank Drummond Receives UMaine Cooperative Extension Faculty Research Award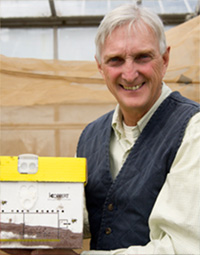 Congratulations to Dr. Frank Drummond, professor of Insect Ecology and Insect Pest Management, on receiving the UMaine Cooperative Extension Faculty Research Award.
Drummond is recognized for over 25 years of applied research in agriculture and natural resource management and 15 years with a Cooperative Extension appointment.  His integration of teaching, service and research has created opportunities for colleagues and over 30 graduate students, and brought in over $16,000,000 in grant funding. He has published over 100 peer-reviewed articles, six book chapters and numerous presentations to scientific and stakeholder audiences.
He is also recognized for his diverse work, including creating modeling tools for Maine's DEP to help guide the U.S. EPA standards for stream quality, working on novel methods for natural parasite controls of greenhouse pests, and innovative work on alternative pollinators.  The long-term impact of these studies has contributed to organic blueberry production increases, a reduction in conventional pesticide use for fruit growers, and contributed to the region's readiness to deal with emerging pathogens, such as the spotted-wing drosophila.
"It is the stories behind Frank's accomplishments that reveal his passion for learning and teaching," said Lois Stack in his nomination application. "In his words, 'ever since I was 8 or 9 years old I have loved insects. For me, my job at the University of Maine is a dream come true … I enjoy studying insects both in the lab and outside in the field and I also have great fun teaching undergraduate students, the general public, and farmers and beekeepers about insect biology, ecology, and management.' "