A Core Facility for Research, Teaching, and Service: The University of Maine Herbarium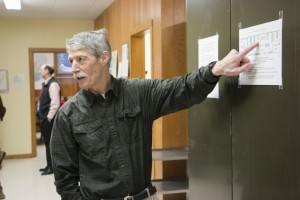 A core facility at The University of Maine, widely known for its accumulation of specimen that are decades older than the university and represent a great deal of the natural world, has recently changed locations on campus. Previously located in Hannibal Hamlin Hall, The University of Maine Herbarium can now be found in room two on the ground floor of Winslow Hall. The herbarium, which consists of five different collections: vascular plants, fungi, lichen, mosses, and algae, remains readily accessible to all those interested in expanding their botanical knowledge and enthusiasm. On Monday, February 9, enthusiasts, friends, and contributors gathered in Winslow Hall to share snacks, make conversation, and tour the newly located herbarium during its open house.
Lining the spacious room are large, metal cabinets that contain hundreds of manila folders conveniently available for any interested individual. Each of these folders is brimming with species of plants and fungi in a dried state, all of which were either collected or donated throughout the existence of the herbarium. Carefully glued to a piece of paper and arranged accordingly, the specimen lasts for centuries of observation and examination while being thoroughly organized in their cabinets. Alongside each specimen there is a label that reads the scientific name of the organism, its location, date of collection, and name of collector. This imaging and archiving of specimen data provides information that can be utilized for educational and scientific advances. By further expanding the online database, people from all over the world are provided with access to the UMaine Herbarium right at their fingertips.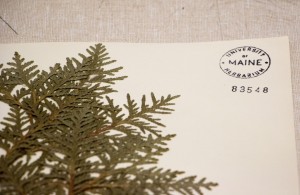 The involvement of many individuals, including professors, students, enthusiasts and professionals, is crucial in order for the herbarium to thrive and grow. Garth Holman, who graduated from UMaine last August with a PhD in Ecology and Environmental Sciences and is a devoted contributor, mentioned that the herbarium is a great resource for students who are interested in plant diversity and identification.
"The herbarium functions as a museum of plant life, providing a historical window on environmental conditions which can be analyzed to study many things, including the expansion of invasive species, extinctions, and climate change," said Holman.
Chris Campbell, professor of plant systematics and a valuable resource due to his extensive knowledge on botany, is thoroughly involved with the herbarium as well. Campbell is a member of an organization called: Friends of the University of Maine Herbaria, who conduct workshops that are open to the public and students. These opportunities allow for the public to learn from individuals who are knowledgeable about plants and love to share their insight. Additionally, the friends perform important service functions, assist with the curation process, and are always willing to help the community.
The UMaine Herbarium has long been a critical asset to teaching and enlightening. It is not only a resource for students and a crucial component for several courses, but many publications have used the herbarium as a resource for their work. Kaylei Bergeron, a zoology major and contributor to the herbarium, said that the herbarium is one of the most beneficial resources on campus that can be utilized by students of all majors and interests. Whether it be out of curiosity, passion, or otherwise, visiting the UMaine Herbarium is guaranteed to provide you with knowledge of taxonomy, evolution, biodiversity in the plant world, and beyond.