UMaine Researchers Transforming Science Education: Michelle Smith Featured in NSF Article
Dr. Michelle Smith, assistant professor of biology and researcher for the Maine Center for Research in STEM (Science, Technology, Engineering, and Mathematics) Education at the University of Maine, was recently featured in an article for the National Science Foundation.  The article, titled Rules of engagement: Transforming the teaching of college-level science, explained how Smith uses her background in molecular biology to create teaching strategies that enhance education for students and faculty.  Smith's unique teaching philosophy is centered around principles such as interactive learning, peer discussion, and active learning activities in large-scale courses.  She leads faculty professional development sessions on campus in which she encourages educators to use active learning and peer discussion in their classrooms.
Many professors across campus have adopted Smith's strategies on teaching and her education research has been spreading across the country.  According to a report by the President's Council of Advisors on Science and Technology, the importance of education research has become quite apparent, citing that fewer than 40 percent of students who begin college in a STEM field finish with a degree in one.
Dr. Farahad Dastoor, professor of biology, was also highlighted in the NSF article for his student-centered teaching strategies.  In his 800-student introductory biology course, Dastoor encourages active participation by using clickers to facilitate group discussion.  Outside of the classroom, he engages students by providing them with thought-provoking questions both before and after a concept is introduced.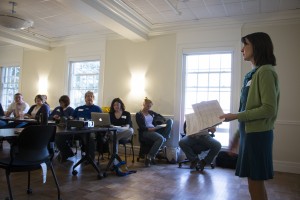 The NSF article highlights the numerous achievements of UMaine education researchers, and brings pride to many.  "What a wonderful article…quite the tribute to Dr. Smith and Dr. Farahad, our bio teaching teams, and all at UMaine supporting our STEM initiative," said Dr. Eleanor Groden, previous director of the School of Biology and Ecology. "Thank-you for all that you do!"
To read the full story by the National Science Foundation click here.