New SBE Assistant Professor of Neurobiology: Dr. Kristy Townsend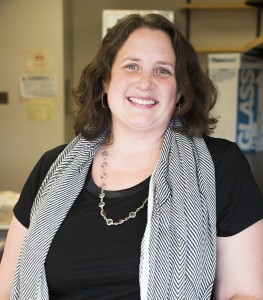 The School of Biology & Ecology is pleased to welcome Dr. Kristy Townsend, Assistant Professor of Neurobiology.  Townsend arrived at the University of Maine at the beginning of November, but will not be teaching until the beginning of the 2015-2016 academic year.  She will be spending the rest of this year setting up her laboratory and planning her future curriculum. She will be teaching Intro to Neurobiology in the fall of 2015, and Cellular Biology in the spring of 2016.
Townsend recently moved to Bangor with her family, but this isn't her first experience with Maine's beautiful landscapes.  She attended high school in Orono, and received her undergraduate degree in biochemistry from the University of Maine.  During her time at UMaine, she did her honors thesis with Alan Rosenwasser, professor of psychology, studying the effects of chronic alcohol intake on circadian rhythms and serotonin signaling in the brain.
"I've always wanted this type of position," said Townsend. "My previous position was purely research, but at night I taught for the Harvard extension school.  I wasn't required to do that, but I did it because I enjoy teaching.  I've always wanted a job that I could do both."
Townsend received her Ph.D. in neuroscience from Boston University in 2007. During her time at Boston University, she began her research on energy balance, body weight regulation, and obesity, working with bat and mice models.  The main focus of her research was comparing and contrasting how the brains of these animals change during the process of body weight regulation.  She also looked at the role leptin, a hormone secreted from fat tissue, plays on the brain of mice when they are fed a high fat diet. After receiving her Ph.D., she spent two years at King's College in London, performing post-doctoral research. This research opportunity exposed her to working more with cell culture, using mouse models that had immune-deficiencies in order to see how immunity is involved with metabolism.
For the past five years, Townsend has been working at Harvard Medical School in the Joslin Diabetes Center.  She worked as a postdoctoral researcher and a junior faculty member, working on a variety of projects focusing on how the brain communicates with peripheral tissues to control energy balance within the body.  A major aspect of her research explored the role of brown adipose cells, looking at how they develop and are activated, what effect they have on the brain, and how growth factors act to increase metabolism.
She will be continuing some of her research projects from previous institutions, but is excited to start some new ones.  Her research will be looking at how specific growth factors affect appetite and how the brain talks to adipose tissues.  Some of her new research projects will be looking at changes in neurogenesis and neuropathy.
Townsend said she is thrilled to be in charge of what she wants to research.  "It's a lot of responsibility to make sure everything is running smoothly. I want to be able to decide what I think is interesting, and study that. To me that is the most exciting part. There are endless possibilities to what research questions I can ask."