Fall 2014 Seminar Series Schedule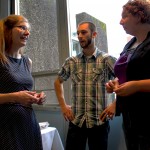 The School of Biology & Ecology is please to present this years Seminar Series schedule! The purpose of these seminars is to highlight an array of research fields and interests from professors and researchers  across the country. Seminars will be held on Fridays at 3:10 pm in Murray Hall, Room 102 unless otherwise noted.  Light refreshments served at 3:00 pm.  All are welcome to attend!
Sept. 12          Dr. Andrew Tanentzap, University of Cambridge
"Extending freshwater conservation beyond shorelines by linking aquatic and terrestrial ecosystems."?
Host by: Dr. Gill
Sept. 19      Dr. Bobbi Peckarsky, University of Wisconsin-Madison
"Potential effects of climate change on stream organisms."
Hosted by:  Dr. Greig; Cosponsors: Mitchell Center for Sustainability Solutions
Sept. 26      Dr. Erik Blomberg, University of Maine
"Landscapes, life histories, and populations: The challenge of conserving greater sage-grouse in a changing climate."?
Hosted by: Dr. Greig
Oct. 3         Dr. Mindi Summers, University of Maine
"Untangling the evolutionary history of a marine symbiosis: Diversity and relationships among crinoids and myzostomes."?
Hosted by: Dr. Smith
Oct.10        Dr. Elizabeth Crone, Tufts University
"Resource depletion, pollen limitation and synchronous mast-seeding in trees and wildflowers."?
Hosted by:  Dr. Drummond; Cosponsors: School of Food and Agriculture
Oct. 17       Dr. Jennifer Roecklein-Canfield, Simmons College
"Undergraduate Laboratory Renaissance: A research based curriculum that builds and encourages persistence of underrepresented students in the science pipeline."?
Hosted by: Dr. Maginnis; Cosponsors: Department of Molecular & Biomedical Sciences
Oct. 24       Dr. Aniruddh Patel, Tufts University
"The evolutionary neuroscience of musical beat perception."?
Hosted by: Dr. Rosenwasser; Cosponsors: School of Performing Arts & Psychology Dept.
Oct. 31.      Dr. John Anderson, College of the Atlantic
"The importance of natural history and its role in teaching biology."?
Hosted by: Dr. Gill
Nov. 7        Dr. Jennifer Marlon, Yale University,
TBA?
Hosted by: Dr. Gill; Cosponsors: Climate Change Institute
Nov. 14      Dr. Will Clyde, University of New Hampshire
"Biological impacts of abrupt global warming events in the geological past."?
Hosted by: TBA
Nov. 21      Dr. Robert Steneck, University of Maine Darling Marine Center
"Ecosystem flips, locks, and feedbacks: The lasting effects of fisheries on Maine's kelp forest ecosystem."
?Hosted by: Dr. McGill
Dec. 5        Dr. Christine Maher, University of Southern Maine
"Individual variation in behavior: do woodchucks have distinct personalities?"
?Hosted by: TBA
Dec. 12      Dr. Julia Dallman, Miami University
TBA
Hosted by: Dr. Henry