SBE Offering Schoodic Experience Scholarship
Applications are being accepted for the 2014 Schoodic Experience Scholarship. The deadline is June 27, 2014.
Click here to download the 2014 Schoodic Scholarship Application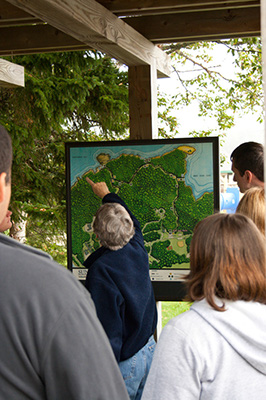 The Schoodic excursion is part of the School of Biology and Ecology's biological sciences orientation course (NFA 117). This course introduces students to their major and informs them about important academic and other resources that are available on campus.  All first-year students in the biological sciences (BIO, BOT, ZOL, and CLS majors) take this course, with most students opting to attend the multi-day event at the Schoodic Education and Research Center, part of Acadia National Park, located on the coast of Maine.
While at Schoodic, students meet and become good friends with other biological science students, attend faculty-led outdoor workshops, visit research facilities, and explore what the coast has to offer in, and around, Acadia National Park. The relationships, and sense of community, that stem from the science-related activities carry-on as positive energy throughout the student's time at UMaine. This allows students to feel at home in the School of Biology and Ecology as soon as their first week begins, and provides a lasting network of support as they pursue their undergraduate degree.