SBE Master's Student Sean Rune Receives Research Grant Award!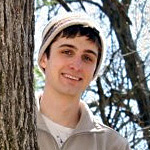 Congratulations to Sean Rune, SBE master's student, on his research grant award!  His proposal  titled "Using Automated VHF Telemetry to Study Shorebird Migratory Behavior and Habitat Use in Eastern Maine Estuaries" is funded by Eastern Maine Conservation Initiative, for a total of 3,000 dollars. The grant will cover equipment costs which will allow him to gather the data he needs to address his research question.
Eastern Maine Conservation Initiative, EMCI, is a non-profit organization designed to foster conservation coverage of eastern Maine, and to support projects on conservation education, historical research, and cultural heritage.
Rune received his undergraduate degree from the University of Wisconsin-Eau Claire and is currently in the first year of his Masters program at UMaine.  He is studying individual conditions and migratory behaviors of shore birds in down-east Maine and is being advised by Dr. Rebecca Holberton, Professor of Biology.
Best of Luck to Sean Rune on his research, and congratulations on his research grant award.