Graduate Student Jenny Shrum in the Spotlight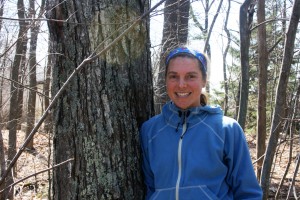 School of Biology and Ecology graduate student Jenny Shrum is trying to understand the relationship between weather and the flow of maple sap, and she is not the only one interested in this topic.  Her research has stirred up a variety of media coverage's including features on WABI-TV, Portland Press Herald, Penobscot Times, BostonGlobe.com, and UMaine News.
By understanding the relationship between weather and sap flow, Shrum hopes to help the maple syrup industry in Maine anticipate how climate may affect syrup production across the state.
"The number of valuable contacts I have made as a result of the TV station reports reaches nearly a dozen.  In fact I am now considering adding some additional facets that will likely make my research far more rich and meaningful," said Shrum.
Shrum is a Ph.D. candidate in the Ecology and Environmental Sciences graduate program and is working under SBE professor Brian McGill.
A National Science Foundation and EPSCoR grant, funding UMaine's Sustainability Solutions Initiative, supports her research as part of the Effects of Climate Change on Organisms research project.
We wish Jenny the best of luck with her research project!
For more information click here.