School of Biology & Ecology Sixth Annual Recognition Ceremony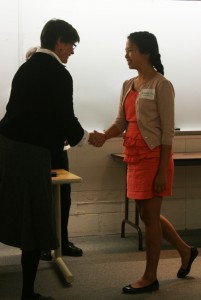 On April 17th, The School of Biology & Ecology held their sixth annual recognition Ceremony in 102 Murray Hall, which recognized undergraduate and graduate students, as well as faculty for their hard work and commitment to their academic studies.  During the ceremony, Ellie Groden, director of the School of Biology & Ecology, and Christa Schwintzer, presented student awards, prizes, and scholarships to the recipients
SBE Academic Awards, which are given to students with the highest GPA in a major within the School, were given to the following recipients:
First Year
Helen E. Call
Victoria L. Gagnon
Eve L'Abbe
Joanie L'Abbe
Jin Sun L. Thomas
Dominika Trzilova
Anne Yu
Sophomore
Alexandra J. Perry
Eric M. Veitch
Junior
Jinlun Bai
Senior
Chelsea R. Wagner
Katherine E. Mills
The School of Biology & Ecology Academic Achievement Award, which is awarded to a graduating senior for having the highest GPA, was awarded to
Andrew Tomes
The Richard C. Wadsworth Annual Memorial Prize is awarded to the highest ranking junior or senior enrolled in the CLS program.  This award was presented to
Emily E. Stevens
The Frank H. Lathrop Scholarship was awarded to high achieving juniors and continuing seniors whom are Maine residents majoring in Biological Sciences.
Bradley H. Clemens
Kimberly Dao
Mattie V. Paradise
The Wayland A. Shands Scholarship Fund is was awarded to a student of Entomology with high academic standing
Hillary Morin
Auburn E. and Lurana C. Brower Scholarship was awarded to an outstanding junior with an interest in Entomology
Marie Martin
The Dr. Joseph W. Warren Scholarship was awarded to a student of high academic standing.
Helen E.  Call
Fay Hyland-Hilborn Prize in Plant Biology was awarded to the outstanding graduate student in Plant Biology or Plant Pathology
Eric Doucette
Graduate Prize in Animal Biology is an award for an outstanding graduate student in Animal Biology
Vernon Beasley
The Edith M. Patch-Frank H Lathrop Prize in Entomology was awarded to
Mathew Jones
The Outstanding Teaching Assistant Award was awarded to
Adrienne Leppold
The SBE Graduate Student Travel Award was awarded to
Eric Doucette
Maureen Correll
Congratulations to all award recipients, and we wish you all the best of luck in your future studies!