SBE Students Receive CUGR Fellowship Awards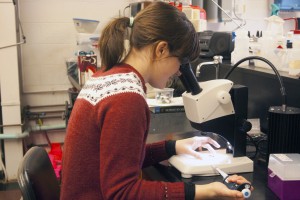 Congratulations to the four students working in the School of Biology and Ecology who have been awarded CUGR Fellowship Awards! In addition to a stipend, they will receive funds to purchase equipment and supplies to conduct their research.
Rafael Garcia has received $1000. His project involves looking for mycotoxins in contaminated maple syrup. Specifically he uses High Performance Liquid Chromatography (HPLC) to try to find the mycotoxins. This kind of HPLC work requires having purified standards to compare test data to. These standards can often be very expensive so the grant money will allow him to purchase several standards to begin looking for mycotoxins.
Justin Lewin has received $104.15. His research revolves around the discussions that middle school students have over physical science questions. His analysis of conversation quality and consequential student performance gains on these questions will provide insight to educators to help promote the most learning conducive discussions. He hopes to gain a deeper understanding of how students' discussion with peers will enable the fostering of such discussions by teachers. Grant money will allow for further data collection and travel expenses.
Amy Michaud has received $705.59. Her research involves the parasitic nematode Pristionchus entomophagus and its effect on soil dwelling insect species. Bacteria in the nematodes causes mortality in the insect and the nematodes feed on these bacteria and reproduce upon host death. She is mainly determining if it is possible to replace this bacteria with specific pathogenic bacterial species in order to enhance the success of the nematode. Grant money will go towards molecular biology supplies, sequencing, ingredients for media, and general laboratory supplies (pipette tips, gloves, ethanol, etc).
Carl Tugend has received $927.99. His research involves investigating how climate change affects the water quality of Jordan Pond in Acadia National Park. Over recent decades the clarity of this pond has declined at a steady rate. The cause of this decline is unclear but may be the result of algal blooms, which are strongly affected by changing water temperatures and chemistry. This research will help us to better understand how the aesthetic and drinking water qualities of Jordan Pond may be changing with climate.
Photo shows Amy Michaud looking at nematodes.