Pre-Med Student Studies Medicine in Dominican Republic
School of Biology and Ecology sophomore Christie Edwards traveled to La Romona, Dominican Republic last summer to study medicine alongside several US doctors and nurses as part of an effort to promote global health in poor communities. Edwards' passion for helping people and passion for medical practice made the trip an easy decision. "It all happened very fast. The trip was all planned in a month and a half," she said. Edwards did all the organization and fundraising for the trip herself.
Because of Edwards' previous mission work in La Romona a few years ago, she was able to ask the director of La Romona's Good Samaritan Hospital if she could come help out for the summer. He was able to give her the opportunity to help teams of doctors and nurses in their routine medical clinics. He was also able to make housing arrangements for her, finding an apartment only three miles from the hospital. To get to and from the hospital and beach she used public transportation cars called carritos, and she ate most of her meals with visiting doctors and nurses, provided by the hospital.
Edwards' work consisted of traveling with the professional doctors and nurses to one local house or "batey" a day to do a medical clinic with the local people that consisted of checkups and in some cases antibioti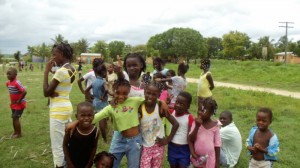 c distribution. She also did some assistant work in the hospital including helping with surgery. Daily checkups in the houses included taking height, weight, blood pressure, and other standard procedures, whereas other clinics included education for the Dominicans about STDs.
According to Edwards, the hospital and some bateys were in very poor condition. Most houses consisted of one room with seven or eight people. Electricity was unstable and the drinking water was dirty. She was able to experience first hand the need for medical professionals in the area. For example, Edwards' team of medical professionals surgically healed a young girl who had burned her hand in hot oil. Edwards is extremely thankful for her opportunity in La Romona. "My enthusiasm about the medical profession definitely increased," she said.
Edwards made a leap of faith when she decided to go on this trip. Since she was going alone and didn't know anyone in La Romona, it was scary at times. "I was apprehensive on the plane," she said, "but the trip was worth it." There was another female student there from Washington and they were able to go to the beach on the weekends. Despite the uneasiness of traveling alone in a foreign country, her parents were extremely supportive of her work. "My family has always traveled," she said, and she is very grateful for their encouragement.
Edwards raised funds for the trip by working at a retirement home and sending out around 40 sponsor letters to her family and friends. Most people replied and she was able to cover expenses for two months in La Romona.
Edwards is a biology major with a minor in neuroscience and a concentration in pre-medical studies with hopes of attending medical school when she graduates. Although her parents are not in the medical field, she has never considered another profession. "Ever since I was little I have never wanted to be anything else," she explained.
Written by Dana Freshley