Faculty's active-learning lesson improves student understanding of biology concept
This is a reprint from the UMaine News feed ( January 23, 2017). Click here to see the original.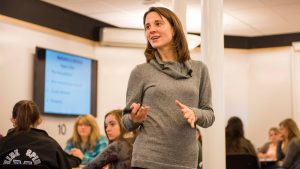 After one of Michelle Smith's recent genetics classes at the University of Maine, several students approached her to compliment the lesson.
"I wish that happened to me every time I teach a class," says Smith, an innovative science educator and of one six University of Maine faculty members who designed that day's lesson to help students better understand the building blocks of life.
At UMaine, Karen Pelletreau, Farahad Dastoor, Hamish Greig, Robert Northington, Brian Olsen and Smith were the architects of the active-learning lesson to improve student comprehension of a core biology concept called central dogma.
Central dogma provides a framework for understanding the flow of genetic information from DNA, to RNA to a protein.
But undergraduates sometimes demonstrate a poor understanding of it, says Pelletreau, who supports faculty interested in using novel approaches to teaching as the manager for workshops, programs and training at the UMaine Center for Innovation in Teaching and Learning.
So Pelletreau, Smith, their UMaine colleagues and 19 other scientists nationwide produced a clicker-based class exercise that was used in 10 large-enrollment science courses at five universities. They monitored student learning and tweaked the lesson based on data.
The professors incorporated clickers — wireless student-response devices that resemble a TV remote control — to facilitate engagement and active class participation.
Dastoor taught the lesson in two Biology 100 courses and says the classes were energetic and dynamic.
"Students are engaged and start asking the types of questions we always want our students to ask," he says.
"It is surprising how much material is covered without the students realizing it. I think this is because content is nested into a very interesting scenario."
The interesting scenario is a 50-minute activity centered on brothers Liam and Elijah, who have five nucleotide differences in their dystrophin gene sequence. Liam has Duchenne muscular dystrophy and Elijah does not.
In the activity, students take on the role of scientists to examine what nucleotide changes could result in Liam developing DMD, an inherited disease that progressively weakens muscles and often affects males.
Using clicker questions that utilizes think-pair-share, group discussions, animations and predictions, students explore how mutations affect genes as well as corresponding mRNA and proteins.
The exercise encourages students to make connections among topics that can sometimes appear disconnected and unrelated, says Pelletreau, a former lecturer and research associate in the university's School of Biology and Ecology.
Assessment results back that up.
Data demonstrated improved student comprehension in all 10 classes, which ranged from first-year introductory biology to advanced molecular biology.
In addition to strong improvement in students' short answers pre- and post-activity, students also scored well on end-of-unit exam questions that targeted similar concepts.
Smith said the project was valuable to her as well.
"Faculty often collaborate on research projects, but there are also meaningful collaborations for developing teaching materials," she says.
"This project was a wonderful experience because 25 people who have taught this material a variety of ways came together to share their insights and make improvements to the lesson.
An article about this National Science Foundation-funded study — "A clicker-based case study that untangles student thinking about the processes in the central dogma" — is available on CourseSource, an open-access journal of peer-reviewed teaching resources for college biological science courses.
The project resulted from two NSF awards. In one, UMaine received $54,486 of a $718,000 collaborative award and in the other, UMaine received $187,968 of a $5 million collaborative award.
UMaine educators led the project with faculty from the University of Georgia, University of Colorado Boulder, University of South Florida, Michigan State University and Stony Brook University.
The endeavor worked so well, Smith says the same approach is being applied to a Research Reinvestment Fund project across the University of Maine System.
Faculty at all system campuses are collaboratively designing an energy unit centered on economically relevant Maine industries, including timber, potatoes and kelp.
Contact: Beth Staples, 207.581.3777