A Meaningful Spring Break: SBE Students Volunteer at Camp Sunshine
SBE students Stacie Poulin and Courtney Horton spent four days of their Spring Break at Camp Sunshine, a free camp for kids with life threatening illnesses as well as their families.  The session the two attended was for children of infancy to teenagers with an oncology, hematology, or a mixed diagnosis.  This camp is a retreat from reality, where children can be in a positive environment during a difficult time in their lives, while having fun with others going through similar situations.  The camp is located on the beautiful coast of Casco, Maine and is staffed almost entirely by volunteers, many of whom attend every year.
Over 2,500 volunteers donate their time each year, approximately 70,000 hours of volunteer work, along with fundraising and donations which allows the camp to be free for the children and families.
Poulin is a biology student with a minor in neuroscience and a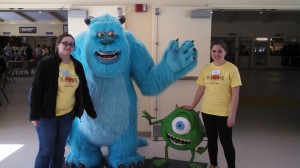 concentration in pre-medical studies.  During her stay at Camp Sunshine, she was assigned to be a 1 on 1 assistant to a 7-year-old boy.  "It is an all-day affair and you were definitely tired at the end, but it was so worth it," said Poulin.
Every hour of the day is packed with activities for the children and their families.  Since it was a winter session, they did a lot of indoor activities but also enjoyed sledding and ice-skating.  Recreational hours allowed the children to relax and enjoy themselves, while giving parents quiet moments to enjoy themselves as well.  After dinner, the children enjoyed recreation and entertainment including music, jugglers, and dancing.
"All the families and children eat together, and it was great seeing all the kids running around just being like normal kids…it's great seeing them so happy.  It's like a big family atmosphere," said Horton, UMaine biology student with a minor in chemistry and a concentration in pre-medical studies. Horton has been accepted to the Tufts School of Medicine through the Early Assurance Maine Track program.
Poulin became interested in the camp because of her love for being around children.  She is from a family of eight kids, and participates in the program UMaine Black Bear Mentor Program.  She is interested in neuropathology, diseases of the nervous system affecting the brain.
Both students enjoyed the experience so much they plan on volunteering in August.
For more information on Camp Sunshine click here.