Graduate Student Jenny Shrum Studies Sugar Maple Sap Flow in Northeast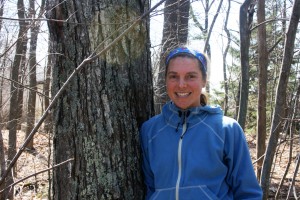 Graduate student Jenny Shrum is as excited as ever to start her new project on maple trees this spring. She is interested in the role of sugar maples in the Northeast and is examining how climate change may shape this role. The first part of her study explores the plausibility of using traits expressed at the edge of a species' range to help cope with climate change. In the case of sugar maples, she is interested in finding out if trees from other regions might actually be better suited to the conditions Maine will be experiencing in fifty years. If so, foresters and syrup producers may be able to plan sugar maple seeds from those regions here. Many people think that tree species exist here because they are best adapted to this environment, but that's not always the case. "We might be able to utilize specific characteristics adapted by a certain subpopulation to help a forest or sugar bush to thrive despite climate change."  The second part of her study will try to draw correlations between sap flow and weather conditions to better understand how the sugaring season is likely to be affected as the severity, length, and timing of winter changes in the decades to come.
Shrum is a Ph.D. candidate in the Graduate Program in Ecology and Environmental Sciences and is working under SBE professor Brian McGill. Her dissertation will include planting different populations of sugar maple seeds from across the range in a common garden and comparing the rate of germination and seedling growth success. With a little luck, she hopes to find a successful tree that perhaps can be tapped for syrup in later years. Unfortunately Shrum won't be able to tap the trees before her Ph.D. program is over. "It takes 20 years before you can tap a tree," she said. However there may be people able to continue the study.
Shrum has found several citizens that have been tapping trees for many years, and they may be able to give insight into maple syrup production in the past and future. "One man said he doesn't see sugar maples reproducing like he used to, and now he has to plant them himself," she said. "Another man has been collecting soil temperature in his yard at two feet deep for the last 20 years. I can use this data to correlate temperature and snow cover to sap flow." After talking to citizens it is clear to Shrum that maple trees provide a certain role in New England culture and are very important to the people of Maine.
Before coming to UMaine, Shrum was working on numerous wildlife ecology projects over a span of fifteen years, but she is enjoying working with maple trees even more. "I wanted to study something that had ecological, economic and social importance. This is something that families have been doing for years and I hope this research will be meaningful and help someone along the way," she said. Best of luck to Jenny Shrum as she continues her research. Shrum is producing a short video about her research that will be available on the SBE website by mid summer.