Henry Lab Grad Student Wins Two Awards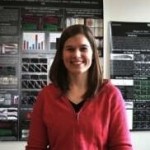 Michelle Goody, a 2007 graduate of the School of Biology and Ecology, and current graduate student from Clarrissa Henry's Lab, received the College of Natural Sciences Forestry and Agriculture Graduate Research Excellence Award. In addition, Goody won Outstanding Platform Presentation at the 2nd North Atlantic Zebrafish Research Symposium in Halifx, Nova Scotia, Canada.
Goody is working on her Ph.D. in biomedical sciences. Her research focuses on muscle diseases known as myopathies, using zebrafish as a model.